Golfing
Prepare to be amazed by the quality of the golf experience you will receive in the County. One of the best kept golfing secrets in the State of Maine, imagine a place where you could play a different golf course every day for over a week, never make a tee time, and enjoy prices that won't break the bank. I am talking about the Crown of Maine from Island Falls to Fort Kent, home to eleven different courses that are all open to the public.
"The Courses in Aroostook County had interesting layouts that used the hilly terrain to maximum effect, both for challenge and views. The county should be on every golfer's list, great golf and great value."
–David Irons, New England Journal of Golf
Va-Jo-Wa Golf Club
Located in Island Falls, Va Jo Wa was carved out on the rolling terrain of Northern Maine. The first nine holes was originally built in 1964 by Vaughan Walker. The second nine was designed and built by Vaughan's son, Warren, and opened in 1989. Va Jo Wa continues to remain family owned and operated. The course will challenge and delight golfers of every skill level. The front nine is in a valley along side Pleasant Lake and features four water holes. The back nine weaves upward offering spectacular views of Mt. Katahdin, hills and valleys. You will use every club in the bag before your round is done. After the round you can enjoy your favorite beverage and a great meal at Craigs Maine Course, located above the pro shop in the clubhouse. Continue to their website.
Mars Hill Country Club
One of Northern Maine's best kept secrets is right here in Mars Hill. The Mars Hill Country Club is located at the base of Mars Hill Mountain in Aroostook County, one of the most picturesque areas of Northern Maine. 18 Holes of rolling greens through stands of hardwood trees and small ponds. Mars Hill Country Club is one of very few clubs to be rated among the top 10% in Northern Maine by the New England Golf Guide. Experience for yourself the par three 6th hole, with its tee area on the side of Mars Hill Mountain and the green located 160 vertical feet below! The golf course is open from late April through October.Continue to their website. ! Mars Hill Country Club
Aroostook Valley Country Club
AVCC is a semi-private club located in a beautiful rural setting overlooking the Aroostook River between the small towns of Ft. Fairfield, Maine and Four Falls, New Brunswick. The club is unique, in that it sits directly on the US/Canadian border. We welcome you to visit, play golf, practice on our newly improved driving range or enjoy our large putting green. Or simply relax and enjoy the great menu in our clubhouse or on our spacious, canopied deck. Continue to their website here.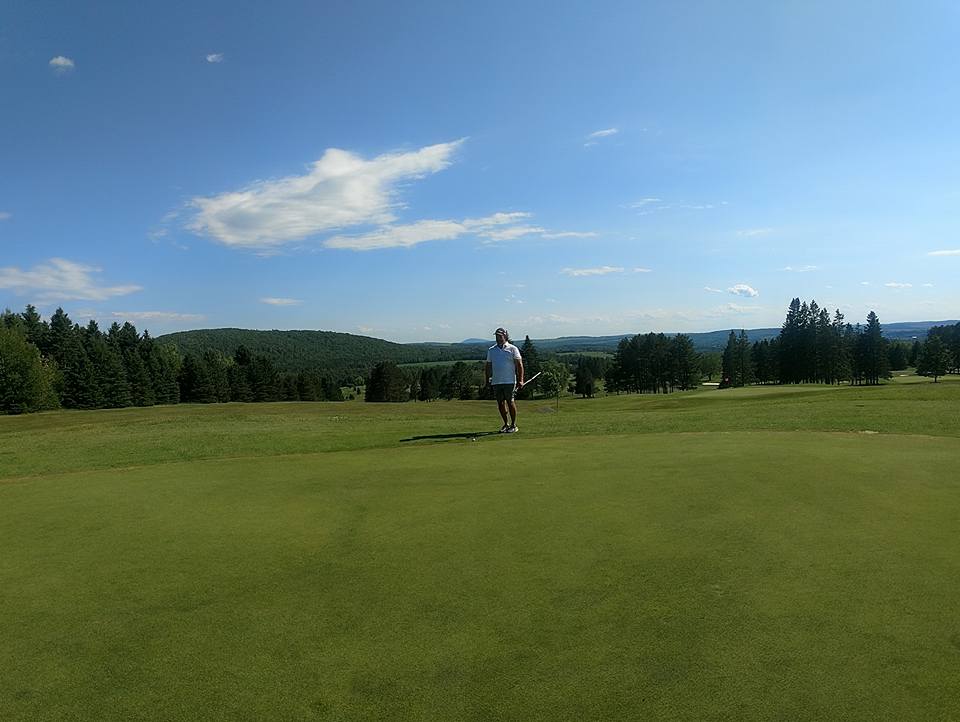 Presque Isle Country Club
Presque Isle Country Club is an 18 Hole Championship Golf Course located on Route 205 in Presque Isle, Maine. It is open May 1 through October 31. Founded in 1957, it has been the site of many tournaments over the past 60 years. The annual Spudland Open Tournament has been held here for over 50 years and is one of the major amateur golf events in the state of Maine and is held annually on the fourth weekend of July. Continue to their website here.
Caribou Country Club
The Caribou Country Club is gracefully carved into the rustic, northern Aroostook countryside. This 3,206 yard, nine-hole course was designed by renowned New England golf course architect Geoffrey S. Cornish in the early 1970's, and is host to the celebrated Cary Classic golf tournament. The scenic, tree-lined fairways of the Caribou Country Club provide a natural beauty to this challenging, yet enjoyable course. Continue to their website here.
Fort Kent Golf Club
Located in the St John Valley next to the Canadian Border, this challenging 9 hole course is nestled in the North Maine Woods. Continue to their website here.
Long Lake Country Club
9 hole golf course featuring a full bar and restaurant inside the club house, open year round. We also have a golf simulator to play in the winter months. Continue to their website here.
Portage Hills Country Club
The 9-hole Portage Hills Country Club in Portage Lake, Maine features all the hallmarks that Maine golf has to offer. Portage Hills Country Club opened in 1968, and offers some of the most pristine and challenging 9 hole play in Aroostook County. Continue to their website here. ! Portage Hills Country Club
Houlton Community Golf Club
Our Scenic Lakeside Golf Course was designed and developed in the early 1900's and features gently rolling fairways, well manicured Tee boxes, and immaculately kept greens, each elevated and with its own special character. The unique layout of the course allows the golfer to play it as a challenging 18 Hole course. Continue to their website here.