Motor Sports
Off Roading – find adventure in new terrain
If you are familiar with the snowmobile trails in the winter months, but ride an ATV in summer, then you know how beautiful this part of America is. During the summer, the 2,300-miles of snowmobile trails become 1,300-miles of ATV trails. Summer takes on a new perspective. The frozen streams you cross are now babbling brooks and snow-covered rolling hills turn a vibrating green as the sun embraces the forest and fields. The huge views and vistas that take your breath away during the winter, are a multitude of colors and spectacular in a totally different way.
You'll be delighted to experience broad expanses of terrain and sights only seen by ATV, Aroostook County is where cherished memories with family and friends are made.
View: Aroostook County ATV Trail Map Find: Aroostook County ATV Clubs
Southern Bangor & Aroostook Trail, The trail connects Houlton to Central Aroostook and is a 40-mile section of a 1,300-mile network of private and public thoroughfares for ATVs in The County. Trail users can expect crushed rock and gravel terrain. In addition to walking, biking, and ATV use, permitted activities on all Interconnecting Trail System (ITS) trails also include Nordic skiing, snowmobiling, snowshoeing, and dogsledding.
Bangor & Aroostook Trail, The 63-mile well-maintained gravel railbed trail runs south from Van Buren toward Stockholm, where it splits into branches to Caribou and Mapleton. It briefly joins the Aroostook Valley Trail in Washburn. Great wildlife viewing opportunity.
Aroostook Valley Trail, The 28.8-mile trail connects with the Bangor & Aroostook Trail in Washburn and is part of the ITS system. This trail connects West Field, Caribou, New Sweden, and Wade. Overnight visitors in this region enjoy lively street fairs on Thursdays in Caribou and Presque Isle!
St. John Valley Heritage Trail, The gravel trail rolls along the bank of the Saint John River for 17-miles between Fort Kent and St. Francis while offering clear views of forests and farmland across the river in New Brunswick.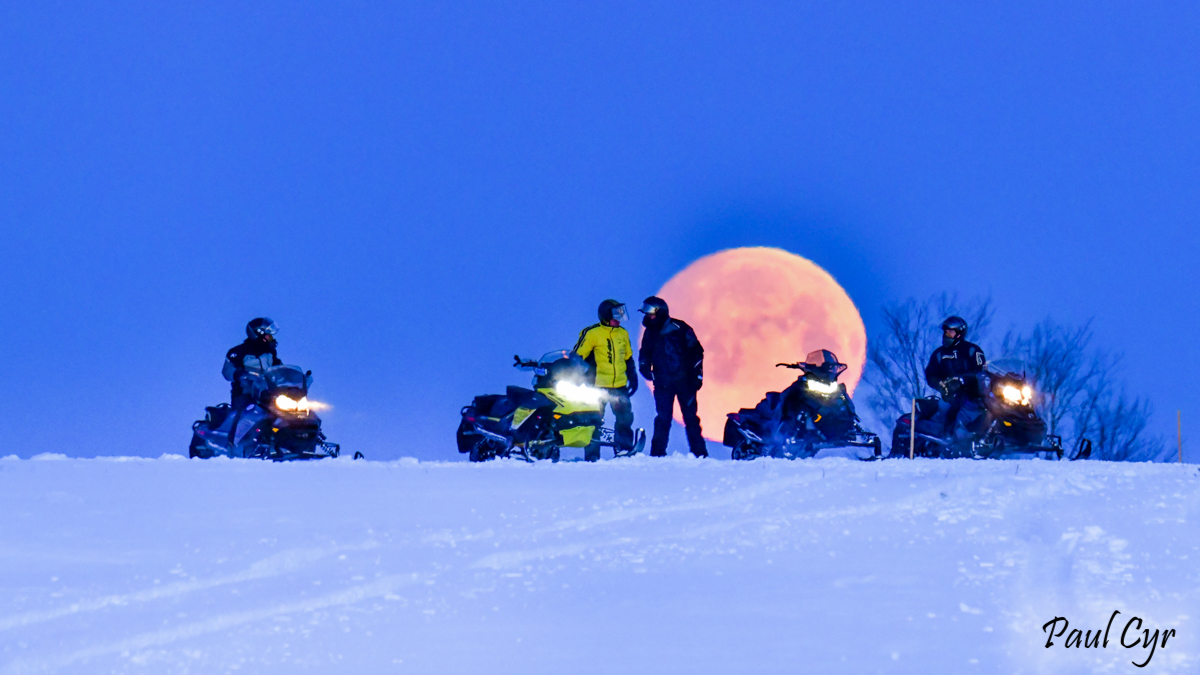 Wake Up to a Foot of Snow – with an average annual snowfall of more than 120"
The 2,300-miles of Snowmobile trails that cover Aroostook County are second to none. The trail system is made up of various trail types that excite snowmobile enthusiasts of all skill levels. From novice, to experienced this is Maine's premier snowmobile destination. Landmarks to visit include the famed Loring Airforce Base, Canadian Divide Markings, and backcountry lakes. Warm restaurants serve up hearty meals and are a good place to catch local musicians. This massive trail system includes rail trails, like the Aroostook Valley Trail and Bangor and Aroostook Trail, which connects the towns, lodging, and service stops throughout The County. The trail system is maintained by 41 snowmobile clubs made up of volunteers who are avid snowmobilers, themselves - they give the best trip suggestions.
Aroostook Snowmobile Trail Map: 2020-21 Trail Map State of Maine Snowmobile Trail Map: 2021 Trail Map