2023-05-05
Best Viewing Festival for the Great American Eclipse
Houlton, Maine is the best place to view the 2024 total eclipse
The countdown has begun for the 2024 solar eclipse, an astronomical event that will captivate the attention of millions of people worldwide.
On April 8, 2024 at exactly 3:32 PM, the moon will completely cover the sun in parts of Maine for around 3 1/2 minutes in a total solar eclipse as totality strikes. The eclipse will begin to cover the sun's surface at 2:22 PM and will completely pass the sun at 4:40 while the sun sets at 7:12 PM.
The path of totality will be visible in parts of Maine, New Hampshire, Vermont, New York, Pennsylvania, Ohio, Michigan, Indiana, Illinois, Kentucky, Missouri, Arkansas, Oklahoma, and Texas. However, the most exciting location for this event is in Maine's Aroostook County, as the path of totality is directly over Houlton, Maine.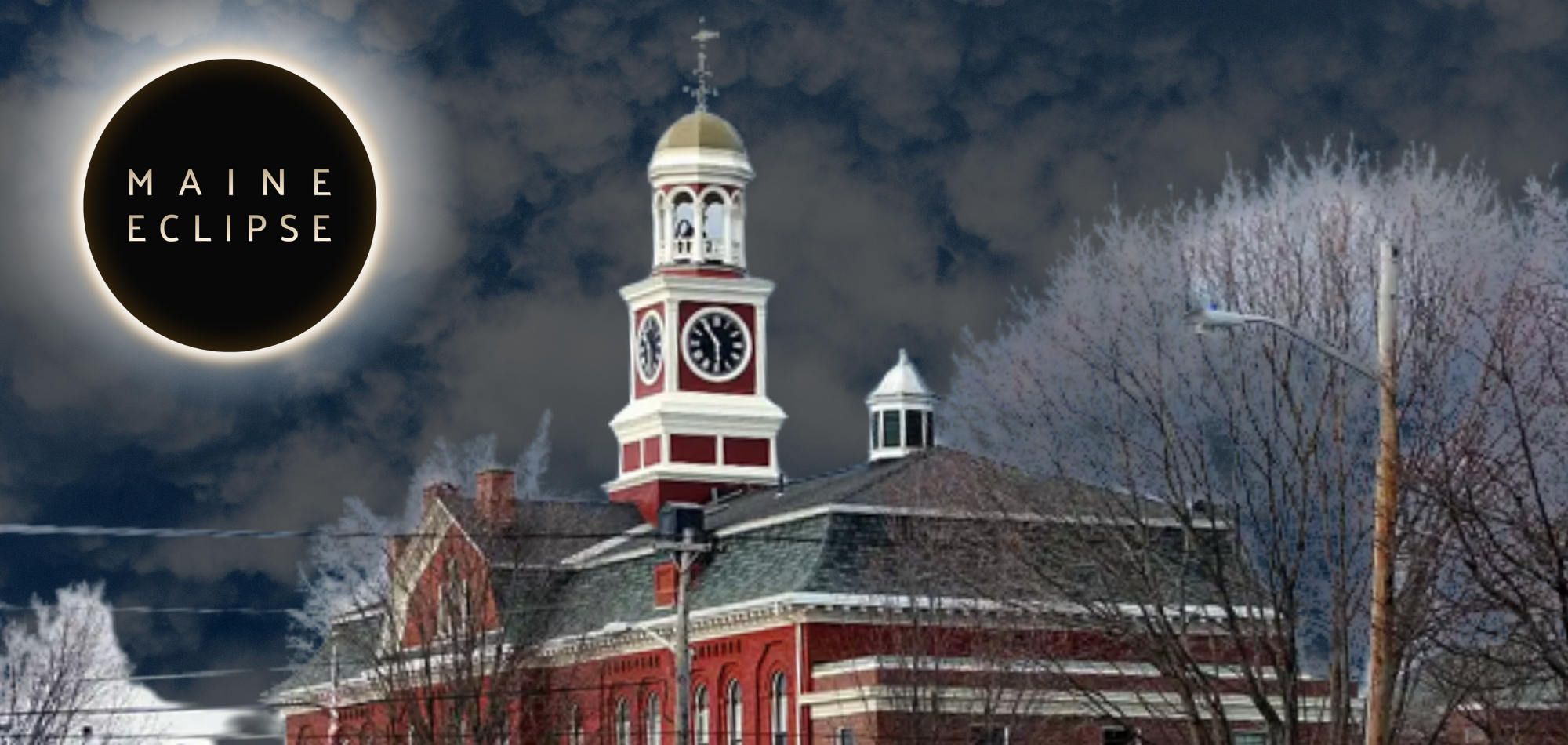 Experience One of the Longest Periods of Darkness in Maine
Houlton is located in the heart of Aroostook County and is designated as the best places in Maine to view the eclipse. As the Great American Eclipse finishes its journey across the U.S. and crosses the border into Canada, Houlton will experience the longest period of totality in Maine at 3 Minutes, 18 Seconds. This is a unique opportunity to witness a rare natural phenomenon that will not happen again for over 70 years!
A total eclipse means there will be no sunlight visable. All will go dark, birds will stop singing, the tempature will drop 15-20 degrees - this only happens in the line of totality. Areas too far south or north from the blue central line see a shorter totality or just a partial eclipse. The difference? You want to be as close to the blue line of totality as possible for the most amazing experience.
Presque Isle, Maine will have a total totality of 2 Minutes, 49 seconds
Weston, Maine will have a total totality of 2 Minutes, 13 seconds
Caribou, Maine will have a total totality of 2 Minutes, 9 secounds
Fort Kent, Maine will not have any totality
Madawaska, Maine will not have any totality
Lincoln, Maine will not have any totality
Bangor, Maine will not have any totality
Lewiston, Maine will not have any totality
Portland, Maine will not have any totality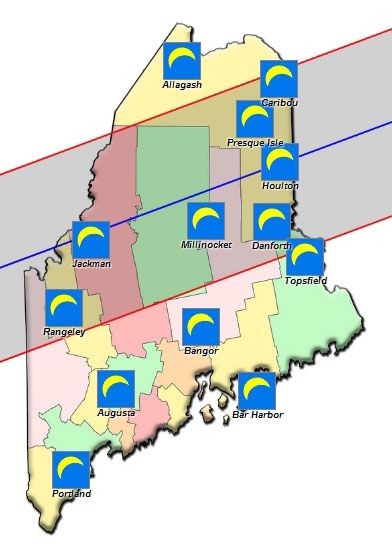 See the 2024 eclipse state animation for Maine
Four Days of Festivals and Activities
To celebrate the solar eclipse, Maine's Aroostook County has planned four days of fun festivals and activities for the whole family - the hubs of excitement are in Houlton and Presque Isle, Maine. From live music to Star Parks and viewing areas, there is something for everyone to enjoy. There is an emphasis on entertainment the evening on Monday, April 8th to encourage viewers to stay longer - this is key in keeping traffic congestion down after the 3:32 PM eclipse. Historically eclipses cause terrible road congestion and wait times are a hassle. The region's designated viewing areas, known as "Star Parks," have been identified as great spots to view the eclipse and offer safe parking, trash receptacles, and restroom facilities. Activity schedules, parking areas, and star parks are being finalized at this time - soon we will map these locations for easy planning.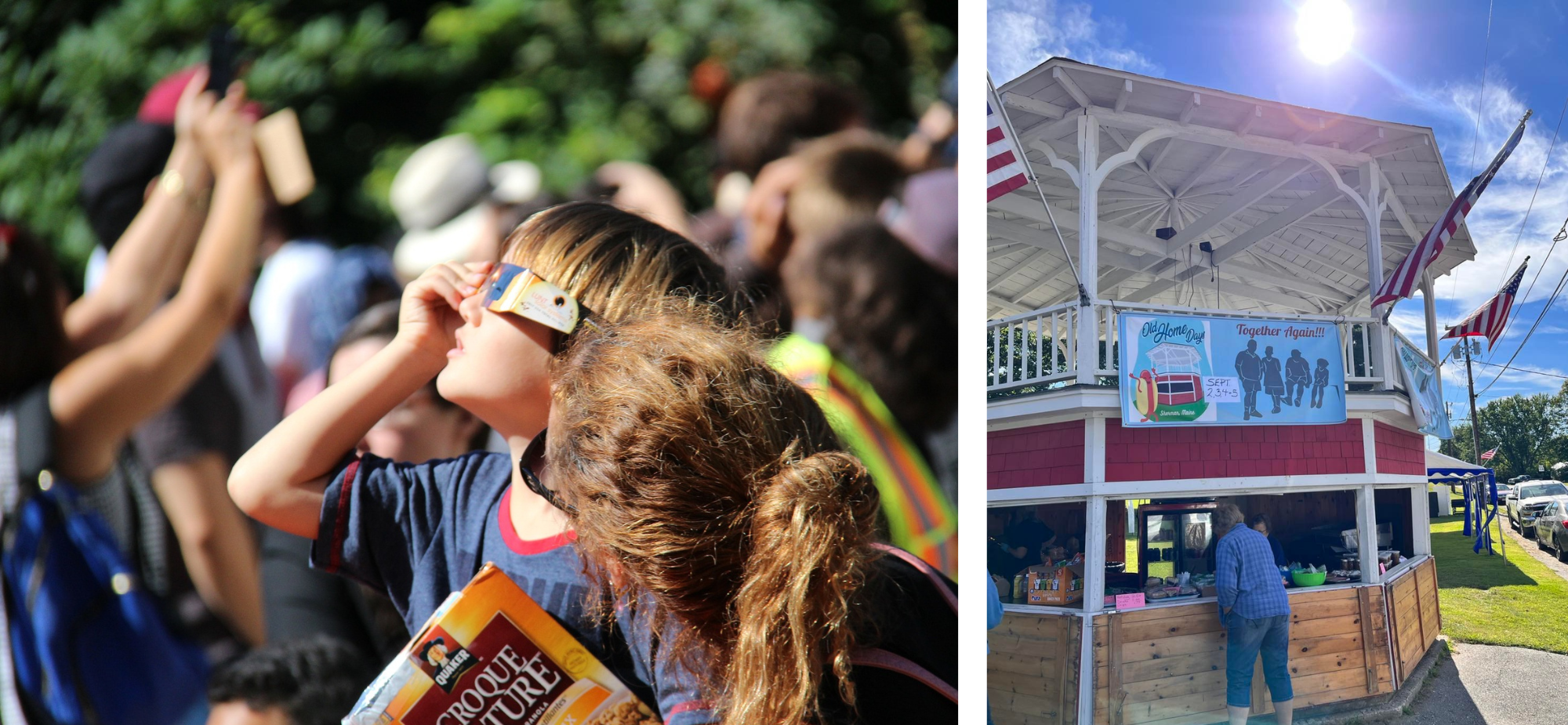 Book Accommodations Early
Traditional lodging at hotels and motels will be at full occupancy during the eclipse. If a hotel in your destination area is unavailable, try contacting hotels north of Interstate I95, such as in Caribou, Portage, Washburn, Van Buren, Madawaska, and Fort Kent. Campgrounds are also likely to be limited, so book early.
Where to Get Viewing Glasses
Viewing glasses will be available at all State of Maine Visitor Information Centers and will be free to the public. These glasses will run out quickly, so make sure to get them as soon as possible! Official Maine Eclipse glasses may be purchased directly from www.maineeclipse.com expecially if you have a large group.
How to Get Here
If you're not driving, several options exist for getting to Maine's Aroostook County.
United Airlines is the only commercial air service to Maine's Aroostook County and flies into the Presque Isle International Airport twice daily.
Cyr Bus Lines operates in northern Maine, and many people will enjoy traveling by bus to the region and walking or meeting friends in the area to enjoy events.
There are taxi services and popular rideshare services in Houlton and Presque Isle, but relying on them is expected to be challenging during this large-scale event.
The 2024 solar eclipse is an exciting event that will be an unforgettable experience for those who witness it. The path of totality will be visible in several states, but the most exciting location to view it will be in Houlton.
Planning for the Solar Eclipse 2024 began more than 4 years ago, and Aroostook County, Maine, is ready for you to come see what 'The End' is all about.
So, book your travel arrangements early and prepare to see nature's greatest sight, a total eclipse of the sun right here in the Crown of Maine.