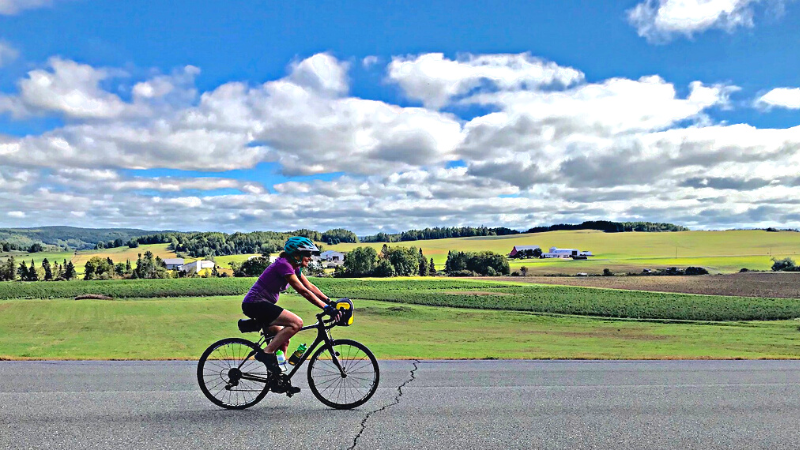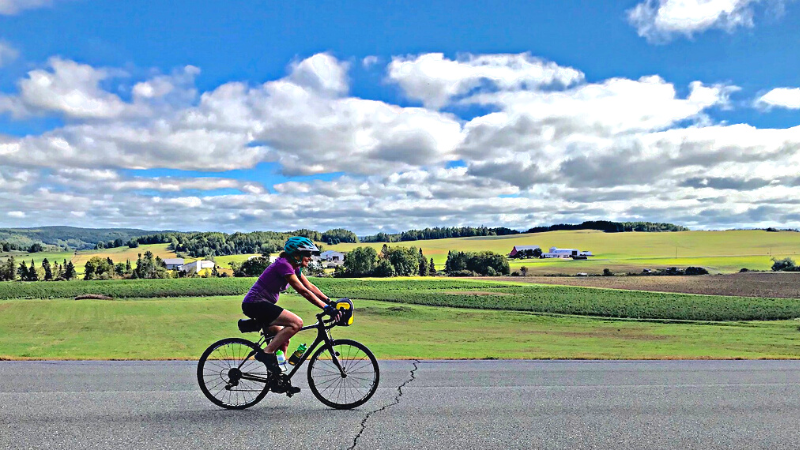 US Bike Route 501
The Very Best of Inland Maine by Way of USBR 501
Biking through Maine can yield exciting adventures, beautiful landscapes, friendly faces, delicious food and cozy accommodations. Imagine how amazing your adventure will be when you devote your vacation time to eating, drinking and riding!
Whether you're a beginner or an elite bicyclist, there is something for everyone on the journey to Aroostook County via US Bike Route 501. You will follow the banks of the Penobscot River starting in Bangor and ending in Allagash where you will connect with the sights, sounds and culture of the surrounding communities along the way.
Some may argue that there is no better way to explore our great state than on two wheels, and we at Aroostook County Tourism have taken the liberty to break down your 654.4 mile adventure into five unique treks.
Here are the highlights of what to expect along the way;
Road Conditions: All paved, no more than 50 miles between amenities, some shoulders, bike lanes, no shoulders, forested, open fields, Rest areas/boat launches with restrooms are frequent along the entirety of this roadway.
Hazards: Log trucks, heavy farm machinery, absence of road shoulders, unexpecting motorists.
Signage: Frequent 'Share-the-Road' signage.
Where to get information: Hampden Visitor Center, Lincoln Information Center, Medway Information Center, Houlton Visitor Information Center, Houlton Chamber, Central Aroostook Chamber, St. John Chamber, Fort Kent Chamber.
Food: Local favorites like fiddleheads, potatoes, poutine, ployes, burgers, pizza and more!
Camping sites/lodging: Medway Katahdin Shadows, Houlton/Canadian Border KOA, Fort Kent public campground, Madawaska Public campground, Allagash sites.
Views: Follows the Penobscot River, East Branch Penobscot River, views into Katahdin Woods and Waters National Monument, views of Katahdin, Ash Hill scenic overlook, rolling farmland, fields of potato blossoms, covered bridge in Houlton, bike along the edge of Aroostook State Park and Quoggy Jo Mountain, St. John River, Acadian Culture, Cathedrals, Acadian Village National Historic Landmark, Buckwheat fields, Allagash waterway, Deep forest of Allagash.
Canadian crossings: In Houlton, Van Buren, Madawaska, Fort Kent, Limestone, Easton, Bridgewater.
Wildlife: Moose, eagles, heron, deer, fox and bear.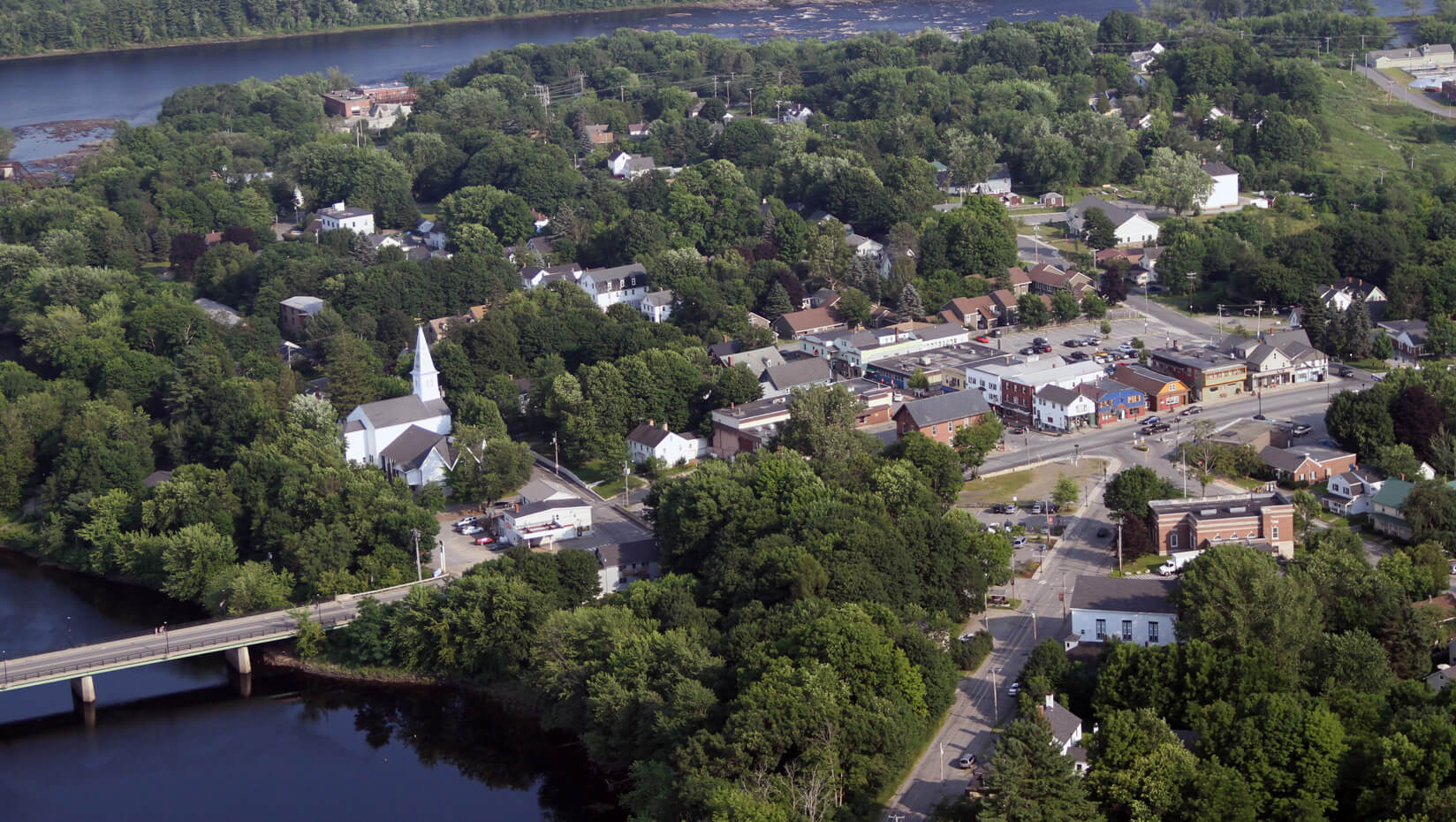 Part One; Bangor - Old Town
Total Distance 14.6 MI, 585 FT
We begin our journey in the bustling city of Bangor in the heart of downtown. Your ride will quickly take you to the picturesque Mount Hope Cemetery where famous people like Hannabal Hamlin and infamous people like Al Brady have made this their final resting place.
Continue along the river through the quaint town of Veazie and follow north toward Orono where you will be welcomed by historic mansions that line Main Street. As you make your way through downtown, you will have several opportunities to grab a bite. Check out Woodmans restaurant and bar for a juicy burger or a heaping plate of pasta. If a slice of pizza is more your thing, pop into Pat's Pizza for a specialty pie like the Bert's Special topped with fresh spinach, tomatoes and feta!
Next you will head toward the University of Maine to tackle the DeMeritt University Forest trails. The forest offers 15 miles of woodsey trails and will be a welcomed break from the rural city cycling. Be on the lookout for wildlife! Oftentimes deer, fox and other animals are spotted along the way.
The last leg of this ride will take you back to the Penobscot River at the picturesque Binnette Park. Strole along the grassy field or take a rest on a nearby park bench and take in the peaceful river as it flows by.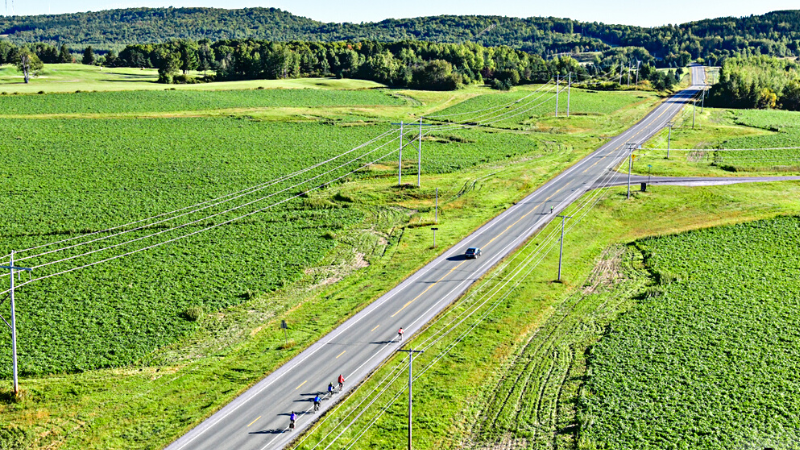 Part Two; Old Town to Enfield
Total Distance 23.1 MI, 482 FT
Old Town
The first leg of your trip ended with a beautiful view of the Penobscot River at Binnette Park, and this is where the second leg of the journey begins! Before beginning your ride be sure to check out The Maine Granite Trail monument, located on the shore of the river, is named "Watchtower," after the similarity between the popular Jimmy Hendrix song and the pure feelings and elements of the river.
There are several boat landings and parks with public restrooms along the way. The Penobscot Drivers Memorial rest stop has a beautiful park along the river where you will find clean restrooms and a spot to unwind.
Continuing on US Bike Route 501, You will follow along the water's edge of the Penobscot River. The best part about this section of your trip is the roadway is primarily flat! The paved road is smooth sailing and gives your body a welcomed "rest" before the more rigorous parts of your journey to Aroostook County.
Along The Way
Take in the river views and be on the lookout for eagles and other wildlife that frequent this area. Landlocked salmon, lake trout, brook trout, and smallmouth bass all call the Penobscot River home, and if you look hard enough, you may even get a glimpse of native fish jumping out of the water.
Be sure to stop by Spencer's Ice Cream in Bradley, and order a yummy treat like the Strawberry Rhubarb, Buttercrunch, or Maple Walnut! All the ice cream is made on site and features anywhere from 16-48 flavors each day!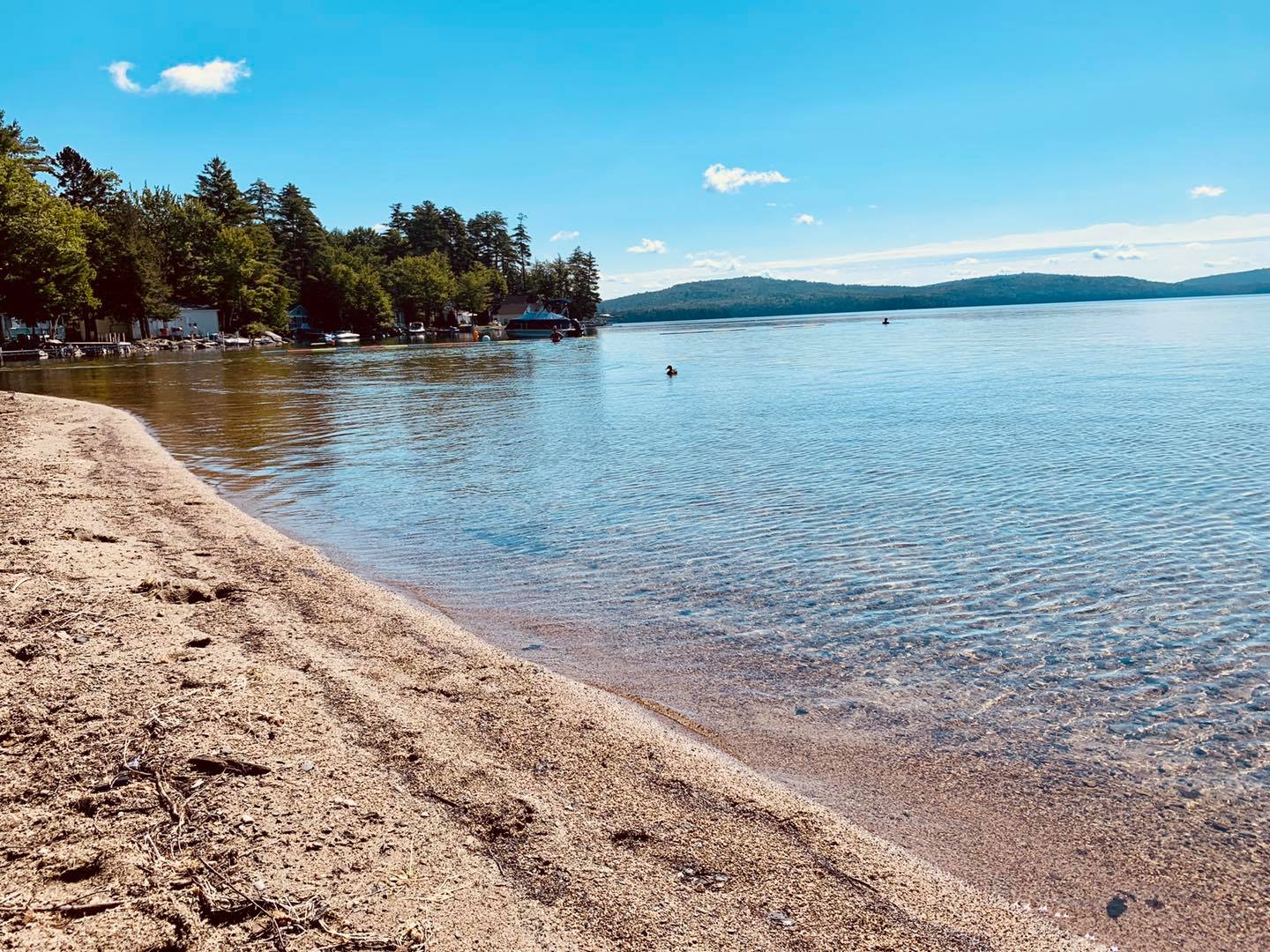 Enfield
You can finish this leg of the journey with a cool off at Morgan's Beach, located on Cold Stream Pond. Morgan's Beach has a quaint snack shack, picnic areas, clean restrooms, and soft sandy beaches. Conveniently located right off the Enfield Road, Morgan Beach is a welcoming sight on a warm summer day, what's stopping you from dipping your toes in the water?
Part Three; Enfield to Lincoln
Total Ride Distance 12.4 MI, 368 FT
Enfield
The best bike treks will provide views, experiences, and quiet time with your thoughts. This portion of the bike trek to Aroostook County will connect you with nature and provide a few mental "zen" moments along the way.
After taking in the beauty of Cold Stream Pond, continue your ride along US Bike Route 501 toward Lincoln. The majority of this ride will be among the trees along route two. The real treat happens when you take a short detour onto Mohawk Road about 4.4 miles into the journey. If you have built up an appetite, pop into the Barnes Brook Golf Course for a slice of pizza at The Pizza Grill at Barnes Brook. The menu features some mouth-watering options like barbeque chicken pizza, boneless chicken wings, and over-the-top delicious fresh-baked desserts.
Continue on Mohawk Road, where you will get within a few feet of the Penobscot River. Here you will have the best opportunity to see the majestic eagle or blue heron. This ride is considered very flat, so enjoy the casual, laid-back feeling as you coast along.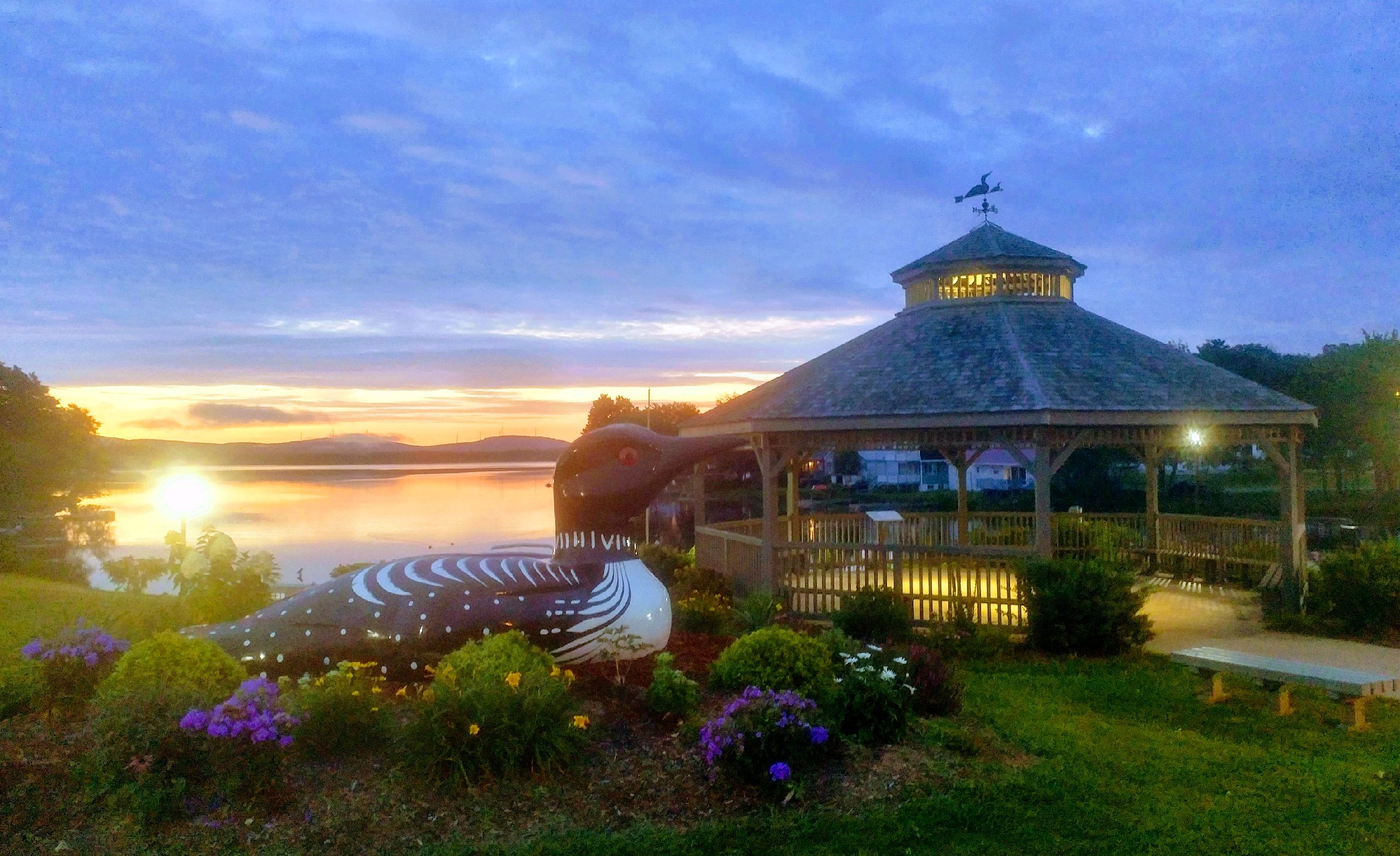 Lincoln
This town is filled with outdoor adventures and numerous local cuisine featuring an assortment of options. Finish this ride through historic downtown Lincoln and on to Main Street. There are several restaurants, small shops, and a Marden's Surplus and Salvage store for bargain hunters.
For a bite to eat, follow the lumberjack sign and head to The Forester Pub for a relaxed outdoor and indoor dining experience. The menu offers a modern twist to the classic pub fare options, not to mention a generous selection of craft beers and specialty drinks to choose from.
Interesting fact, Lincoln is home to more than a dozen lakes and ponds! With this many options for aquatic adventures, it's nearly impossible to narrow it down to one. This leg of the journey ends directly in front of Mattanawcook Pond at the scenic Lincoln Loon Statue on Main Street. Take a quick selfie in front of the loon and grab a cozy spot to relax in the gazebo.
Another must-see in Lincoln is hard to miss; gaze out at the awe-inspiring Rollins Mountain wind project. The solar turbines are an engineering wonder and really are a must-see.
Part Four; Lincoln to Staceyville
Total Distance 39.1 MI, 2,239 FT
Lincoln
You will also see great views of Mount Katahdin, Katahdin Woods, and Waters National Monument during this trek.
Following along US Bike Route 501 adjacent to the Penobscot River, you will make your way toward Mattawamkeag, where you will encounter significant hills on your ride. A ride through Mattawamkeag would not be complete without a stop into Berryland Take-Out. The ice cream sundaes are the perfect summer treat! Continue along Route 2 until you veer left onto Route 157, where the road hugs the river's east bank. There is a Dam Viewing Park along the way that offers excellent views.
Medway
Katahdin Woods and Waters is Maine's newest member of the National Park Service registry, which includes the cozy town of Medway. There is a lot to offer here, and after a long day of riding, a hearty meal and an overnight stay are precisely what you need! Off of Route 157, you will find a log home that is the location of the Katahdin Chamber of Commerce visitor information site. Here you find all the information about the exciting area activities, including hiking in Baxter State Park, kayaking, fishing, moose tours, four wheeling trails, and so much more!
Food will be at the top of your priority list after the long ride. Head over to Shelly's for a variety of surf and turf options. The fish and chips or fried scallop basket will rival any coastal town menu!
Overnight accommodations are available at a few choice spots. For a campy Northwoods experience, head to Katahdin Shadows Campground and Cabins. There are several log cabins to choose from, and some even feature a full kitchen! There is an oversized inground pool perfect for cooling off after a day of biking. If you need extra toiletries or snacks, the campground has a store on-site! If the traditional hotel stay is more your speed, The Gateway Inn is a great option for lodging.
Staceyville
Continuing north on Route 11 toward Staceyville, you will ride alongside the East Branch of the Penobscot River. There will be continued views of Baxter State Park and Katahdin Woods and Waters National Monument.
Scenic, calm views will pass you by as you make your way to Staceyville. Penobscot River Trails has some great bike trails, hiking trails, and lots of sightseeing. There's a visitor center with trail maps and information on the region. The courses are well maintained and offer trails from moderate to advanced.
As you continue along Route 11, snap a picture from the Summit Farm Scenic View spot before entering the town of Sherman. If you're in the mood for some local cuisine, a favorite spot is Brenda's Restaurant. The brunch menu is big and includes homemade bread and biscuits. Follow along Route 11 to Staceyville.
Part five: Staceyville to Ludlow
Total Distance 39.1 MI, 2,239 FT
Staceyville
The incredible views of Maine's highest peak, Mt. Katahdin, continue through Staceyville, and just north of this quaint town, you will have the opportunity to encounter a 360-degree view of Katahdin, the mountains surrounding Baxter State Park, as well as beginning views of Allagash River at the Ash Hill Scenic View spot.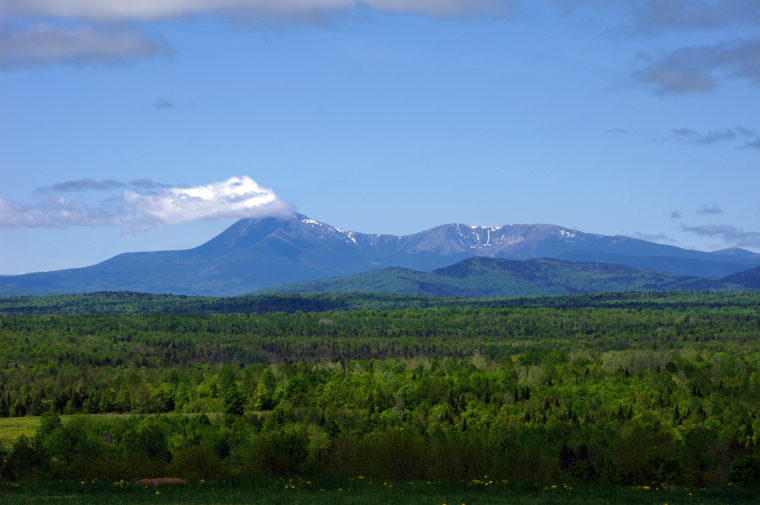 Patten
The town of Patten is home to the Lumberman's Museum, where Maine's logging history is preserved through artifacts and photographs. The museum features a Lombard Steam Hauler, Lombard Gas Hauler, and the Peavey Cant Dog. Visitors will learn about the use of bateaux on waterways to help transport supplies along the river and gain perspective of the daily lives of a logger.
Craig's Clam Shop and Flatlanders Smokehouse & Cafe are two equally delicious food spots in Patten. Depending on what you're in the mood for, Craig's Clam Shop has fresh seafood baskets and over 24 soft serve ice cream flavors. Flatlanders Smokehouse & Cafe has southern-style BBQ with all the fixings!
Have you ever wondered what it was like to stay at a historic farmhouse? The restored Bradford House Bed & Breakfast is located on 16 acres right in downtown Patten and has cozy overnight accommodations. If tenting in the north woods is more your speed, an excellent spot for camping is South Branch Pond, Baxter State Park.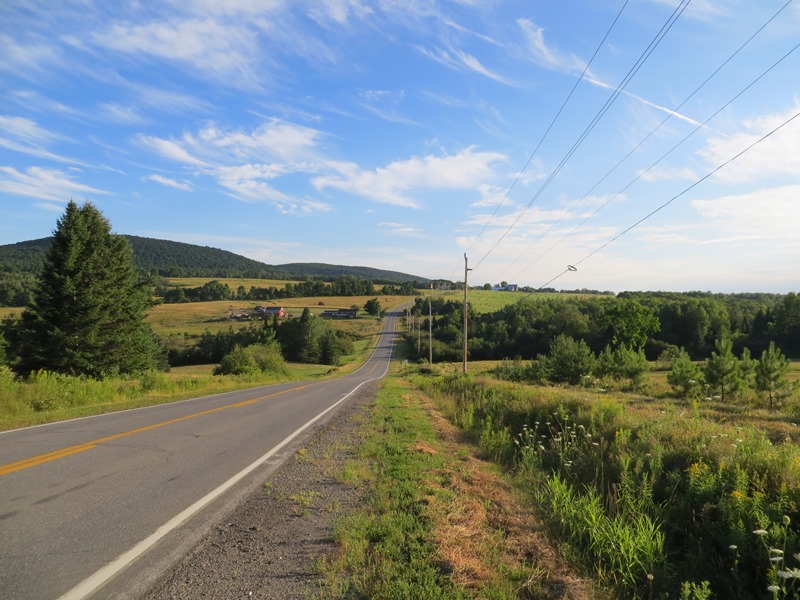 Ludlow
Continue along on Route 2 toward Island Falls and snap a picture at the scenic overlook for a viewpoint of Upper Mattawamkeag Lake. There is a large Amish settlement in this area, and along the bike route, you are sure to see many roadside stands with baked goods and fresh fruit.
There are significant hills here, so pace your ride and take in the scenic spots readily.
Part Six: Ludlow to Presque Isle Total Distance 58.6 MI, 2,765 FT
This scenic ride will take you over a historic covered bridge and travel along the edge of Aroostook State Park. Then, continuing on U.S Bike Route 501, toward the bustling town of Houlton.
Houlton
This town has an abundance of activities and attractions. Fishing, ATV trails, and the biggest fireworks show north of Portland are just a few things to see and do in Houlton. The downtown/market square area has some great cuisine options and sweet little shops. The Riverfront Park and Gateway Bridge has a leisurely walk along the Meduxnekeag Riverside trails; there are numerous plaques with illustrations detailing local history. You can spot wildlife along the walk and three bronze kinetic wind sculptures.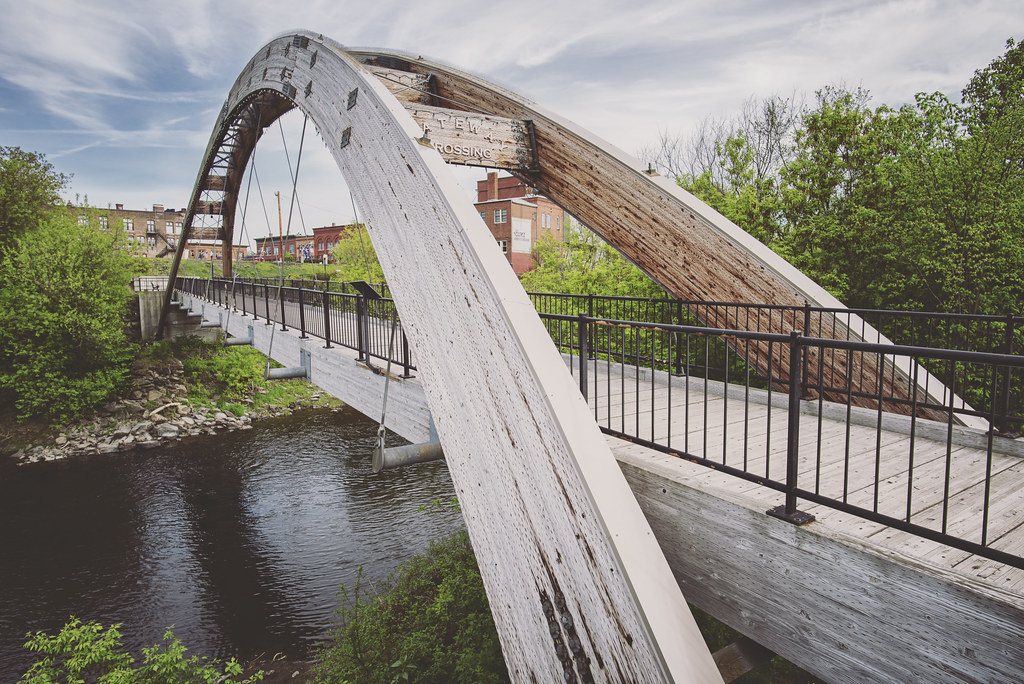 The Downunder Sports Pub has something for everyone on the menu and 20 Maine craft beer options to choose from. The menu includes wings, steaks, seafood, pizza, and more! In addition, there is seasonal outdoor seating and lots of fun arcade-style games, and a golf simulator.
Continue north to the Watson Settlement Covered Bridge. This 170 foot covered bridge looks like it came right out of a storybook. Built in 1911, the timber trusses of the Howe design have two spans and were built over the Meduxnekeag Stream. Riding your bike through the bridge is truly a unique experience.
For the remainder of your ride, you will be close to the Canadian border. Be on the lookout for wildlife like moose, white-tailed deer, black bears, and the red fox that all call Northern Maine home.
Presque Isle
Just after you pass the town of Bridgewater, there are scenic views of the vast wilderness, including a Big Rock Mountain. Presque Isle, the largest city in Aroostook County, has lots of hunting, fishing, hiking, mountain biking, and sightseeing!
Take a break from cycling and enjoy a guided river trip on the Aroostook River. The water flow is gentle for most of the time and runs right next to the city! Perception of Aroostook has experienced guides, shuttles, and all the gear you need to make your trip memorable and safe! For a more laid-back experience, Merchants on the Corner is a specialty gift shop with something unique around every corner.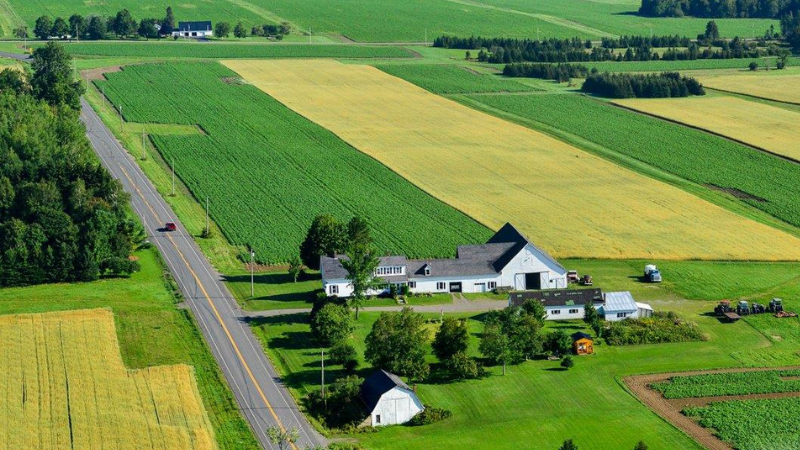 Let's talk about food! Presque Isle is home to some mouth-watering cuisine, and many make the trip to experience the food! A local favorite is the Irish Setter Pub. The laid-back atmosphere is a great way to end your day. The Irish-themed menu features classics like Shepherd's pie, corned beef & cabbage, fish & chips, and Celtic chicken. But, if you're craving something South of the border, Mainely Mexican is your spot! With signature cocktails, steak fajitas, and sesame beef tacos on the menu, how could you go wrong?
There are several overnight accommodations in Presque Isle with options like cabins, traditional hotels, and inns. However, to get the whole "Presque Isle" experience, consider a stay at the Northeastland Hotel, a boutique-style hotel rich with history, in the heart of Presque Isle.
On your way out of town, head to Teresa's Corner Cafe and Bakery for a stack of pancakes or sample something from the bakery.
Part Seven: Presque Isle to Van Buren Total Distance 51.5 MI, 2,800 FT
This cycling route weaves from central aroostook to the Canadian border town of Van Buren. With colorful midsommer festivals and traditions all year - this biking expereince will ensure your stumble upon some well kept secret gems of the Crown of Maine.
Presque Isle
This bike trek is a picturesque ride along the Aroostook River. Passing through sprawling farmlands and open fields, continue riding on US Bike Route 501 toward Van Buren. You will get a killer workout on your legs while conquering the large hills through New Sweden. This ride also allows you to experience the robust agricultural trade in Aroostook County. A full service bike shope is located in downtown for repairs, supplies, and expert advice!
Washburn
This cozy town is located along the Aroostook River and will provide some peaceful scenery on your ride. There is a great spot to stock up on snacks, grab a bite or take a break at Washburn Trailside Convenience Store. There is also an Agricultural Museum that has old farming machinery and equipment on display and a really neat exhibit called Don & Barbs Country Corner that includes rare pottery, iron, copper, brass culinary items and other historical artifacts.
Caribou
Caribou is the second-largest city in Aroostook County and is the perfect place to check out along your ride. Fun Fact, The National Weather Service Forecast Office is located here!
With many outdoor facilities maintained by the Caribou Parks and Rec Department, you could enjoy various activities like a stroll in one of the parks or walking tracks or explore the ATV trails.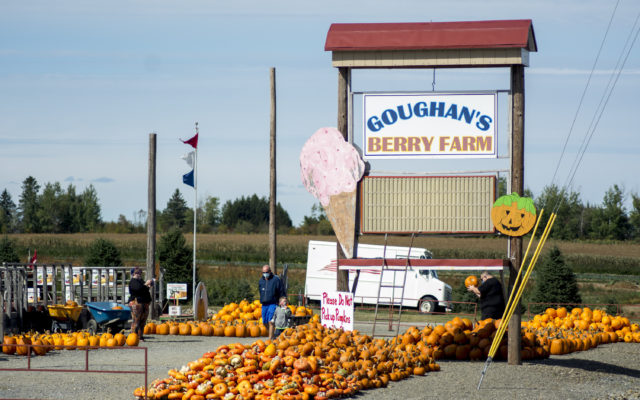 **
If you're up for a round of golf, Caribou Country Club has a beautiful nine-hole golf course designed by the renowned architect Geoffrey S. Cornish, and is artfully carved out of the rustic countryside. The backdrop is worth the break from bike riding!
Summertime is the perfect time to visit Goughan's Berry Farm! Pick, eat homemade ice cream, see farm animals and try some great products like strawberries or maple syrup!
New Sweden
Get ready for the hills as your ride past rolling farmlands and beautiful pastures. New Sweden is a town established by Swedish immigrants and their families, is rich in history, unique festivals, and beautiful lupin fields.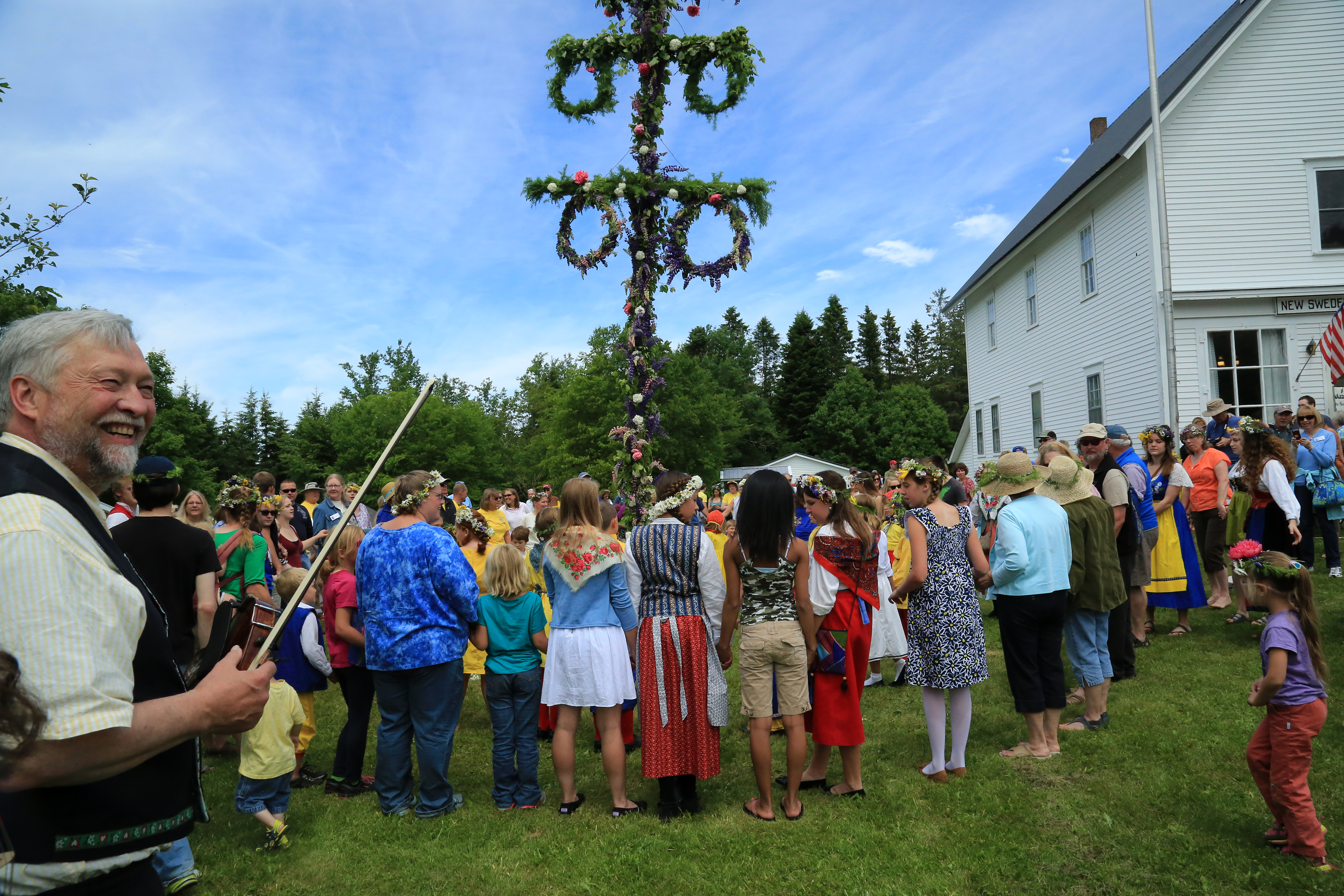 The Midsommar Festival is an experience not to miss when visiting New Sweden. (although this year is virtual), Held on the closest weekend to June 21st (summer solstice), the town celebrates Swedish traditions with food, dance, costumes, and decorating the Midsommar pole. There are craft fairs galore and plenty of live entertainment like storytelling. Let's talk about the food! The festival has lots of traditional Swedish fare like KÖttbullar (Swedish meatballs), Sill (pickled herring), grilled salmon, and boiled new potatoes with fresh dill, soured cream, and raw red onion. The festival is held in Thomas Park, the heart of New Sweden; there are lots of hiking and biking trails located here.
Van Buren
Continuing on US Bike Route 501, you will see glimpses of Aroostook National Wildlife Refuge. Located on part of the former Loring Air Force Base, the 7,750-acre refuge protects native wildlife habitats and species.
Beginning St. John Valley Cultural Byway is located right outside of Van Buren and will give you a chance to take some stellar pictures. Van Buren is the spot for border crossing. It is nestled along the St. John River, one side in the US and the other side in Canada. There is a US Customs and Border Protection cross point located here.

Be sure to visit the Maine Tribute Moose sculpture. The 11 feet tall life-size bronze statue showcases everything that makes Maine special. The moose is adorned with a Maine Coon cat, Black Cap Chickadee, lobster, a can of Moxie soda, leaping landlocked salmon, and various emblems of a blueberry pie, whoopie pie, pine cone and tassel, honeybee, wintergreen, tourmaline, fossil, and a nautical rope!
Grab a Pizza Burger at the classic Americana style restaurant Tasty Food! The fast-food restaurant is one of a kind and features ice cream, burgers, chicken, seafood, and the beloved poutine, a Northern Maine favorite side dish of french fries, cheese curds, and brown gravy!
Overnight accommodations can be found at the Aroostook Hospitality Inn, located within walking distance to restaurants and lounges and are located across the street from the Canadian border.
Part Eight: Van Buren to Allagash Total Ride Distance 75.2 MI, 2,728 FT
Cycling in Northern Maine brings you along parts of the St. John Valley/Fish River Scenic Byway and weaves through quiet Acadian towns. Safe boat landing parks and parking areas are peppered throughout the ride for scenic breaks.
Madawaska The final stretch through the Crown of Maine toward Allagash is much flatter than the notable hills in Van Buren. The remainder of US Bike Route 501 will hug the shores of the historic St. John River. Wild less is abundant in Northern Maine, and chances are you will encounter a moose, deer, and an abundance of fowl. The untapped wilderness is mesmerizing and immediately makes you feel like a pioneer exploring.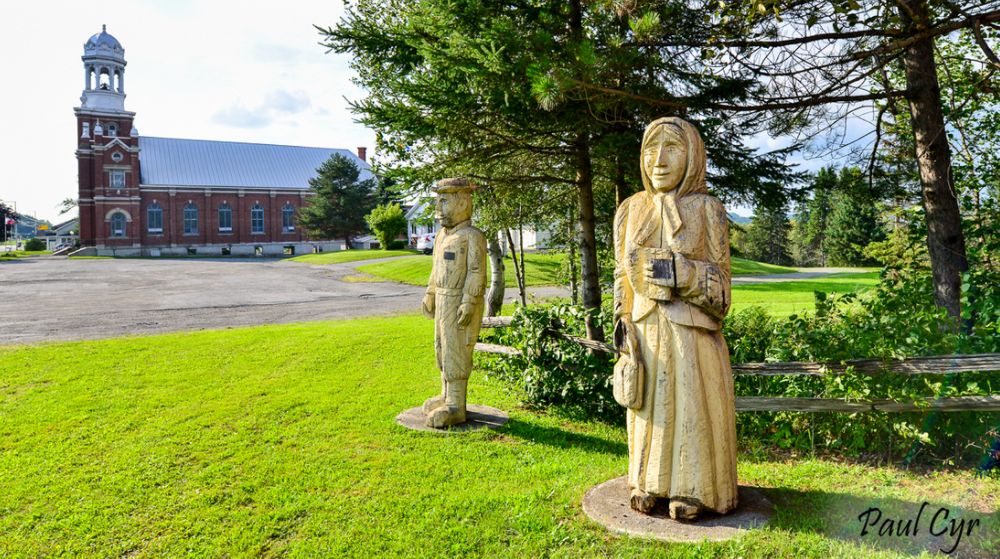 Madawaska is rich with Acadian culture, and in terms of the "Crown of Maine" reference, you are at the very top. This town is the state's northernmost destination. Hunting and fishing are big draws to the region, and snowmobile trails are very popular in the winter. Many folks speak French here but have no fear if you are not fluent in the language; English is still a popular choice.
The Four Corners Park is the first park dedicated to long-distance motorcycling and is part of Southern California's Four Corners Tour checkpoint, and it's one of the checkpoints for the TRUE-X-TOUR.
If you are looking for an authentic Acadian experience, the Maine Acadian Culture Museum is an actual cultural village that you can tour. Visit the Roy homestead, the Hamlin School House, Our Lady of Assumption Church, and look at photographs and other artifacts detailing Maine's Franco-American heritage, highlighting Acadian settlers in addition to French Explorers and French Missionaries.
A true Northern Maine treat is poutine (french fries covered in cheese curds and brown gravy), Chez Helen's Restaurant has a Maine themed twist on the classic side dish; Lobster covered poutine is a crowd favorite here, and the Acadian-American menu is loaded with mouth-watering options like ploys with cretons, fiddlehead soup, fresh grilled haddock or the prime rib special.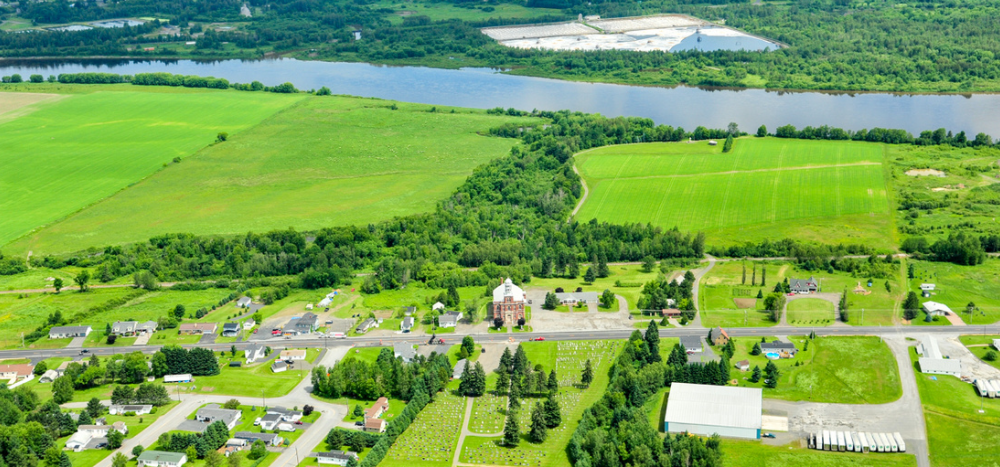 If you need more time to explore, book a room at the Inn of Acadia situated directly across the St. John River. This modern and comfortable spot has luxury rooms and first-class gourmet dining in the Voyager Lounge.
Frenchville Continuing along US Bike Route 501, there is a picturesque spot to rest and snap a few pictures at The Frenchville Boat Landing. This quiet rural town is a potato farming producer, and the landscape resembles a patchwork quilt. Home to the Aroostook Regional Airport, Frenchville provides vital access to the St. John Valley.
Frenchville has a community park that's along the way that's great for taking a rest and absorb the beautiful surroundings.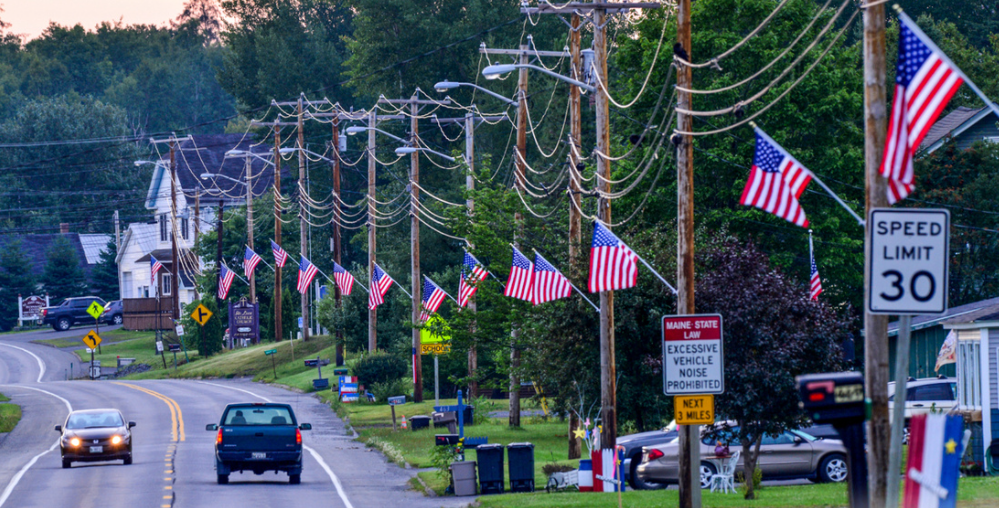 Dolly's Restaurant is known for ployes, creton, and the delicious chicken stew, or take a quick detour onto route 162 and grab a bite at the waterfront Long Lake Sporting Club in Sinclair. This spot has gained worldwide recognition and is a local favorite.
Fort Kent Scenic beauty continues in Fort Kent. The town is a rural farming community rich in heritage and recreational activities, including an array of biking trails. The Fort Kent Riverside trail system is a fun low impact ride along Saint John and Fish River through downtown Fort Kent.
Recognized as a National Historic site, The Fort Kent Blockhouse is a remnant of the Aroostook War from 1784-1842 over a border dispute. Although no one died, the site reflects the struggle of land ownership at that time. The original log blockhouse is located in the state park and is open for visits in the summer.
If you happen to be riding through during the month of August, there are two fun festivals to attend, the International Muskie Fishing Derby and the Ploye Festival. The fishing derby draws many local and out-of-town fishers to the competition, where they reel in as many muskie fish as they can handle in one day! The Bouchard Family Farm puts on the Ploye Festival along with the Greater Fort Kent Chamber of Commerce. The day is filled with eating, local music, ploye wrestling contests, and a craft fair.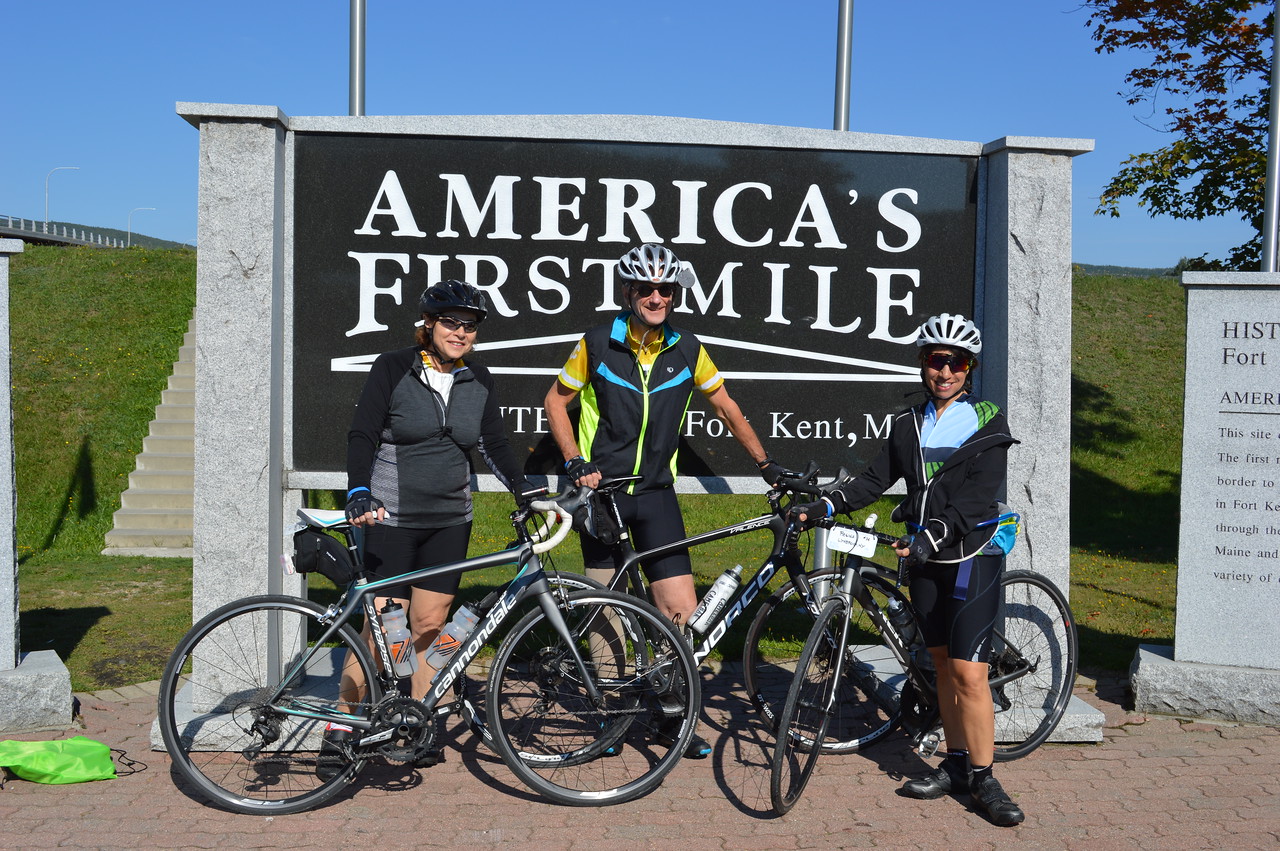 Check out First Mile Brewing for a bit to eat and a pint of beer. They make a wide variety of beer styles and offer a laid-back atmosphere.
The best part about this ride is the views and quiet moments of mental zen. After riding out of Fort Kent, take in the scenery, enjoy the lake, or take a dip in Fish River and hang out on the beach!
Allagash There are plenty of opportunities to take a rest, pull out a picnic blanket or snap an epic pic on your journey to Allagash along US Bike Route 501. Continue along the St. John River, and work your way through some of the most untapped wilderness areas the world has ever known.
A must-see spot in Allagash is the Wilderness Waterway; as part of the Scenic River System, 92 miles of pristine waterways are available for exploration via canoe or kayak. There are a few campgrounds along the way that offer few amenities, but the reward lies in the total disconnect from the outside world. Guided canoe trips are available through Allagash Canoe Trips.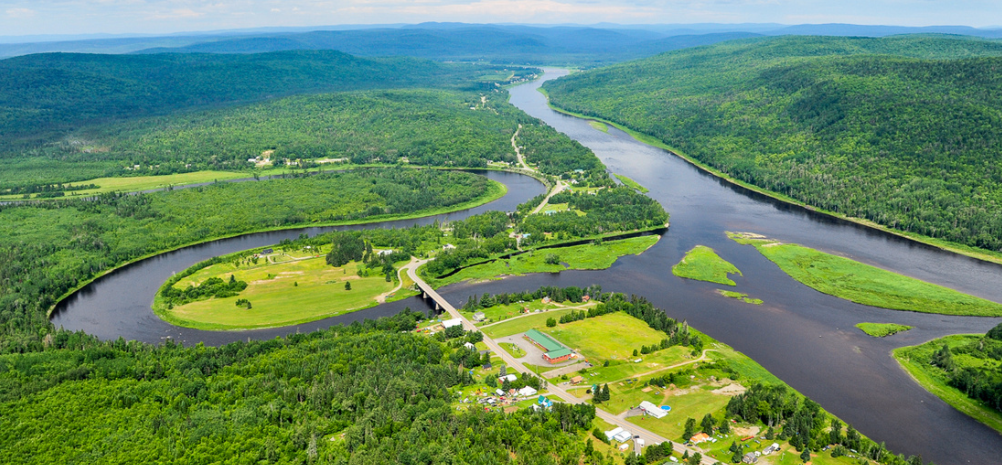 Two Rivers Lunch is a tasty place to pop in for a grilled cheese sandwich or a double patty burger. The food will hit the spot after a long day of biking.
You've made your way through the picturesque, untapped wilderness and experienced the heart and soul of Aroostook County. US Bike Route 501 is an experience that should be repeated more than once. Every trip will be unique, and there is always something new to see!
---