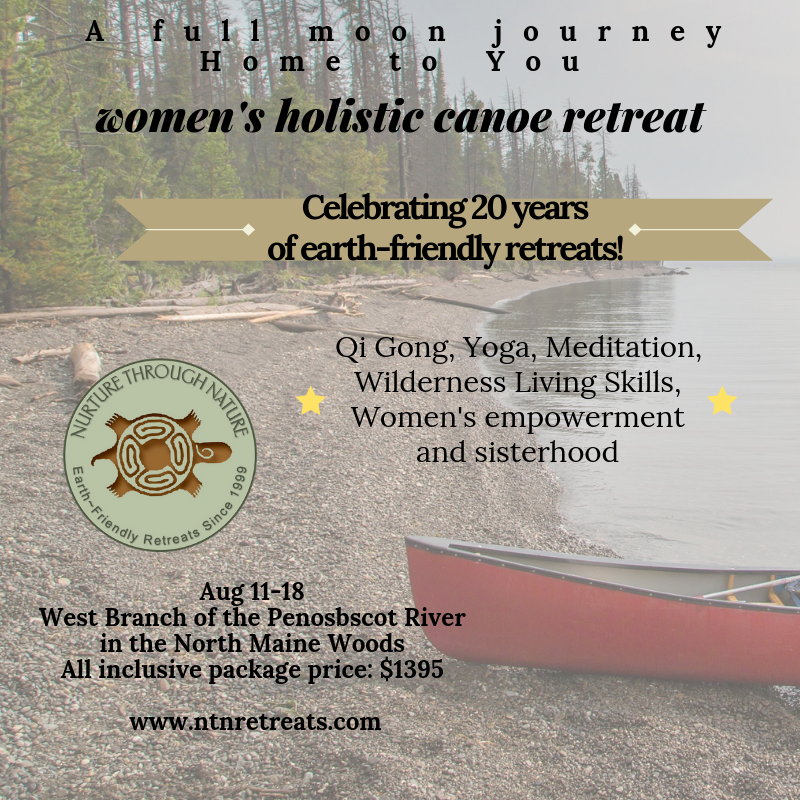 Focusing on women's empowerment and well-being, experience a journey into mindfulness, qi gong, forest therapy and sisterhood through a guided personal wilderness immersion. Beyond the borders of cellular waves, disconnect to reconnect to the natural elements, yourself and community.
Words do no justice in describing the magic that unfolds for those that show up for a retreat of this length and nature. Becoming absorbed in the natural world while in community, having all that we truly need in our canoes, creates a sense of spaciousness, simplicity, and empowerment. Connecting with the natural rhythms of sun, moon, stars, water, and earth brings us back to a more authentic and ease-filled way of being.
Join the circle on this transformative retreat of a lifetime...
Retreat includes: Daily Qi Gong~Yoga and Guided Meditation Awareness and mindfulness exercises Wilderness living skills for empowerment and confidence building Guided Forest Therapy practices to enhance connection and healing 21 vegetarian, wholesome gourmet meals A one-on-one holistic life coaching session with Jen Paddling gear 7 nights guided paddling journey on Lobster Lake, West Branch of Penobscot River and Chesuncook Lake (a 43 mile journey) Gate, camping, shuttle and parking fees for the North Maine Woods A life~changing experience in the back country

Rediscover your heart's intentions for your greatest manifestation's in this life on this path.


All inclusive retreat package price: $1395

 To hold your spot, submit your $300 non-refundable deposit today. Space is very limited and we suspect there will be a waiting list.
A few details:
 Plan to carpool on Aug 1 to Millinocket to meet at a designated hotel. We will pre-pack and get organized that evening in Millinocket. First thing on Aug 2 we will carpool to our take-out location and car shuttle service.
Your facilitators are Jen Deraspe and Meghan-Mack Nicholson, both registered Maine Guides, each with over 20 years experience in retreat leading and wilderness guiding. Jen, the founder of Nurture Through Nature retreat center, is a Certified Yoga and Qi Gong instructor and Certified Facilitator of The Work of Byron Katie. Megan-Mack, the current program director for the Hyde Wilderness School, has an MS in Outdoor Leadership and Environmental Education. In addition, she is a Certified Forest Therapy Guide, Reiki practitioner and is working towards her PhD in Eco-Psychology. Both Jen and Megan-Mack share a deep passion for the healing arts and the natural world and sharing those passions with those interested.


A portion of your retreat fee will be donated to support the mission and vision of www.MaineRivers.org 
. 

To learn about Jen's latest canoe journey: https://ntnretreats.blogspot.com/ 


Not included in canoe retreat fee:
 Transportation to and from Millinocket
, hotel on first night and breakfast out on first morning.