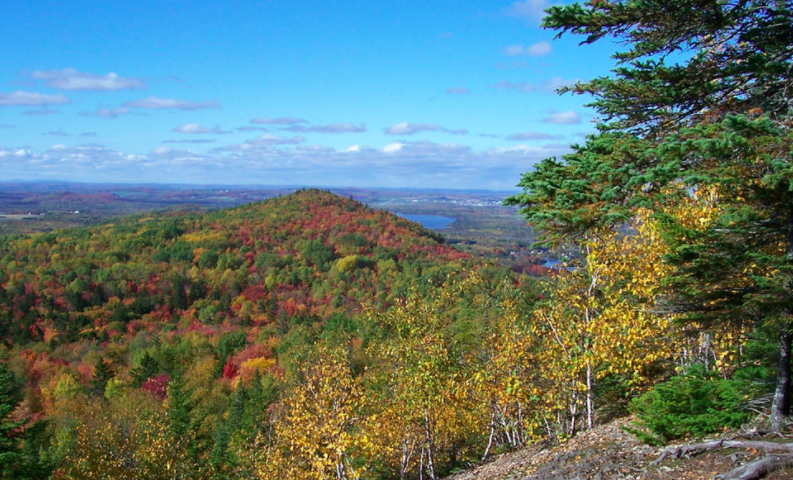 Photo Credit: Photo from www.mainetrailfinder.com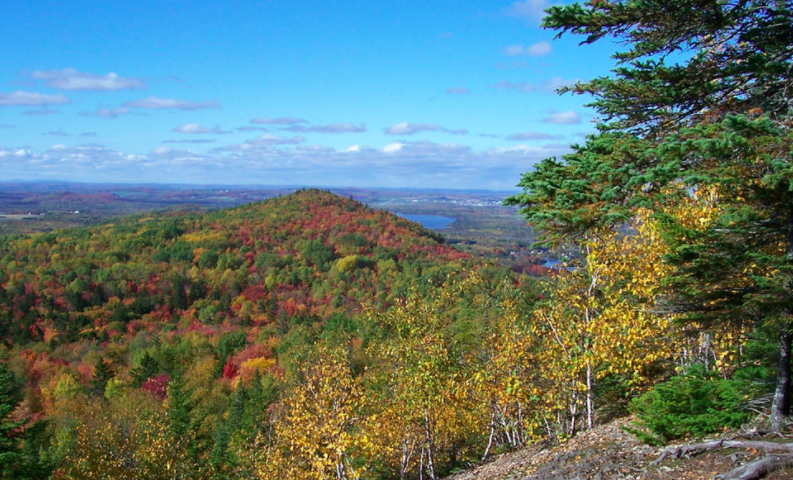 2017-09-07
The Story of Quoggy Jo
Guest Blogger: Patricia Sutherland
As a lifelong resident of the Chapman Road, just southwest of Presque Isle, Quoggy Jo Mountain has been in my backyard all my life. Quoggy Jo is a rocky, wooded promontory which is considered a small mountain by many in relatively flat Aroostook County, but it is really a hill. A tall hill, perhaps, and in places very rocky and challenging. It is the heart and symbol of Aroostook State Park, the state's first state park and a most recognizable location in Presque Isle.
In the 1930s, local landowners and business leaders in Presque Isle, encouraged by Rev. Parks, saw the opportunity that Quoggy Jo presented for the area and successfully worked with the State of Maine to access funds and workers to develop the park.
Linwood "Red" Delano was the first ranger at the park, and served in that capacity from December, 1947 until May, 1959. A massive stone erected near the entrance of the nature trail at Aroostook State Park bears a bronze plaque designating the Quaquajo Nature Trail as a memorial to Linwood R. Delano, former park ranger.
"Red" Delano was quoted as saying that Quaquajo Mountain is the correct spelling of the often misspelled mountain, and that the Native American name means peaked mountain.
Early explorers and map makers identified the mountain as Quaggy Jo. Tradition says the hill derives its name from a Native American by the name of Joe, who was found entombed by some early explorer or surveyor, near a quagmire at its base, hence Quagmire or "Quaggy Joe".
To the east at the base of the mountain lies a beautiful lake of about one hundred acres, Echo Lake. The summit is said to be 2000 feet higher than the surface of the lake. The east side of the mountain for nearly half the distance down from the top is nearly perpendicular; then it is a gradual descent to the lake and is covered with a dense forest of hardwood.
The summit of "Quaggy" Jo (so called by official surveyors) was made a station for observation by the boundary commission for running the line between Maine and New Brunswick under the Treaty of 1842.
Another interesting story found in historical manuscripts is a short one concerning again how Quaggy Jo Mountain got its name. Rev Parks states that it is a misconception that the mountain is named after a Native American who used to live there, but that it is really a corruption of what the first Native American said to the first white man encountered on the mountain. "Quaquajo" in Malaceet, "Where are you going?"
It's been "Quoggy" Jo for most of the last 150 years…guess we'll leave it at that!