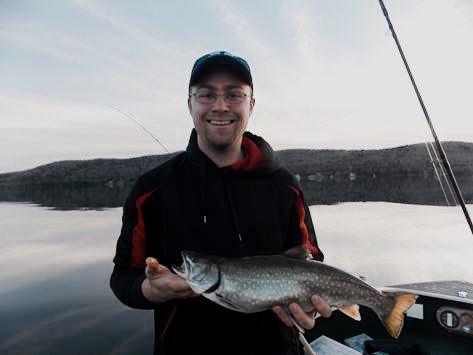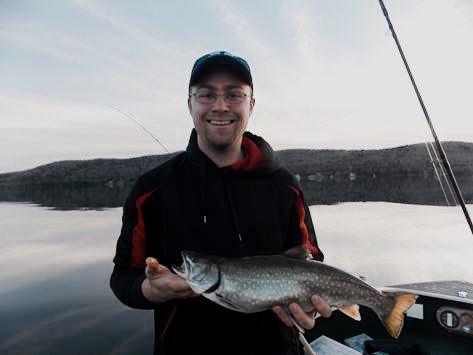 2018-04-12
Spring Salmon Fishing
Guest Blogger: Jen Brophy, Red River Camps
The days are finally getting longer, the clocks have sprung forward, and even though the weather isn't flirting with spring yet, the calendar is. That means it's just about time to start untangling last year's tackle and dreaming about open water fishing.
Introduced to Aroostook's Fish River watershed in the late 1800s, landlocked Atlantic salmon (Salmo salar) have since become a favorite of anglers from ice-out in the spring through the first part of the summer. Salmon are found in large, deep lakes around the County, and the fishing is stronger in many of those than it's been in years, thanks to the work done by our local biologists with the Maine Department of Inland Fisheries and Wildlife and the relatively light pressure by fishermen. Salmon fishing starts strong right at ice-out every year (around the beginning of May) and stays that way until mid-June, when the water warms up and salmon slow down. Sixteen- to eighteen-inch fish in our lakes typically weigh one to two pounds, but three- to five-pound fish up to twenty-five inches long aren't uncommon, and a lucky angler might catch one up to eight pounds.
Want to try your hand at landing a landlocked salmon of your own? Troll a surface streamer (try a grey ghost, a nine-three, or your favorite smelt pattern) or a sewn-on live smelt on Long Lake, Eagle Lake, or Square Lake. All three have public boat launches, and you won't have to wait in line just to get on the water like some of our southern cousins do.
On Long Lake, you'll find the public launch on Route 162, between the Long Lake Sporting Club (a great place to stop for dinner after a day on the water; you can even take your boat there directly) and the town of St. Agatha. (Want to sound like a local? Pronounce it "Sain' Agat.") Long Lake is the deepest of the three and typically produces the largest salmon; it's a favorite of fishermen in search of a trophy.
To access Square Lake, the largest but shallowest of the three, you'll launch on Cross Lake at Disy Road north a few miles north of Stockholm and motor south through the thoroughfare to Square. Eagle Lake is the smallest of the three, but don't let that fool you; it still produces abundant salmon. To fish it, you'll launch from Old Main Street in the town of Eagle Lake.
And what if you forget an important piece of your tackle kit? It's a long drive home to retrieve that fly you forgot, but never fear; the Fish River region has plenty of friendly, knowledgeable stores that can set you up. Drive north to Fort Kent, and you'll find Up North Outdoors, one of the area's largest outdoor retailers. Coming from the Presque Isle area? Stop at Ben's Trading Post before you get on the road, and they'll make sure you have everything you need for a great day on the water. If you're already at the lakes and find that you're missing something, swing by Martin's General Store in Sinclair or St. Peter's Country Store in Cross Lake, and they'll get you going again with everything you need.
So come north this spring to search for that silvery, speckled prize. You'll find our lakes uncrowded and our salmon willing to bite; the way fishing should be.
Fun Fact: Famous Fisherman from Maine
Charles Phair (1875-1943) was born in Presque Isle, Maine to Thomas Phair, the "Starch King of Aroostook County". Charles cast his first fly when he was only eight years of age and was "hooked" from that point forward. It is estimated that during his lifetime, he caught 5,000 salmon with his greatest daily total of 24, perhaps a testament to the great salmon fishing in this region.
In 1937, Charles wrote a book, Atlantic Salmon Fishing that is regarded by many even today as the definitive work on American salmon angling. The regular edition of 950 copies sold at that time for $25 each and a special edition of forty sold for $250 a copy. The book was acclaimed by sportsmen as one of the most complete records of salmon fishing ever presented including more than 40,000 pieces of material in its making and a "grand collection" of flies and lines included. Today, a first edition of this book, which includes flies hand tied by Phair, can go for more than $50,000 at auction.
Phair lived in a house on Main Street in Presque Isle that serves as Governor's Restaurant today. The building is eligible for listing on the National Register of Historic Places as it is one of the only existing Gustav Stickley homes in Maine. Gustave Stickley was the founder of the Arts & Crafts movement in furniture and architecture. A home can only be considered a Stickley house if plans for the building came directly from the Stickley factory.