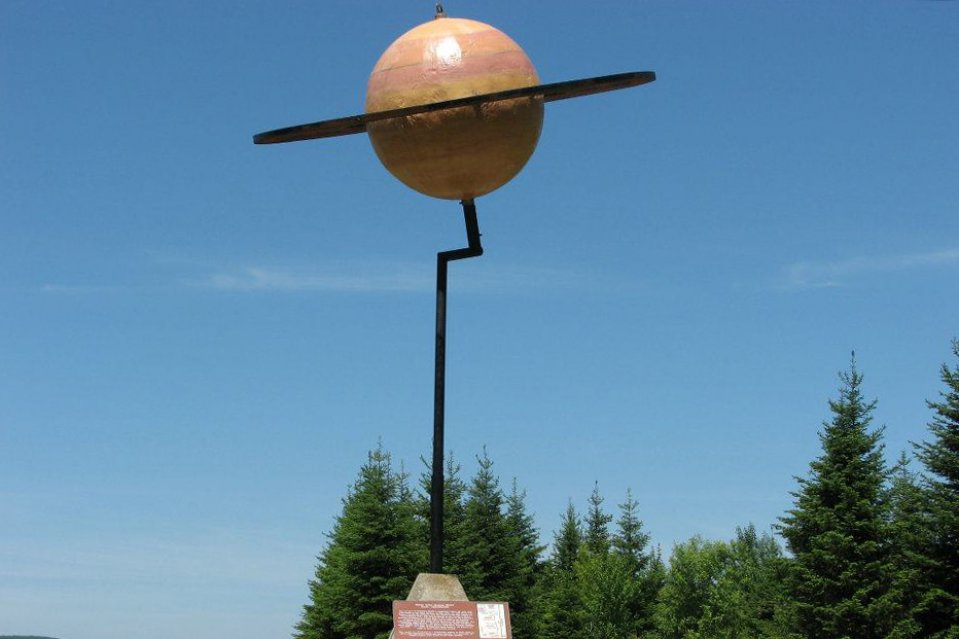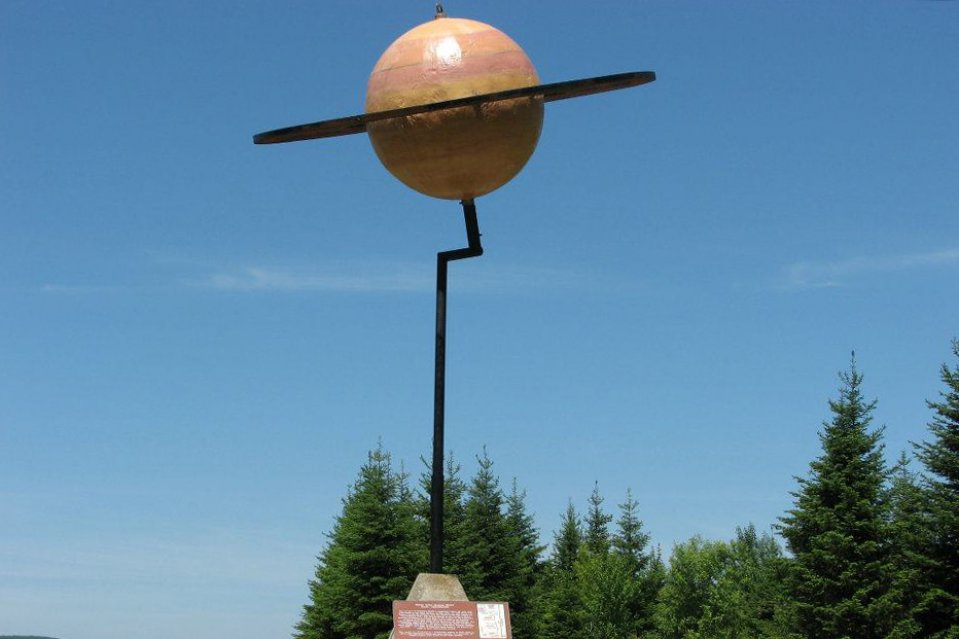 2019-12-06
Go Way Far Out in 'The County'
Guest post by Earl Brechlin
There are lots of places in Maine that are out of this world but Aroostook County takes it to the extreme.
For nearly 40 miles along Route 1 you can drive through a 3D scale model of our solar system. It is the largest of its kind in the Western Hemisphere — second largest in the world.
Running from a 50-foot yellow ring representing the sun at the Northern Maine Museum of Science at the University of Maine at Presque Isle (UMPI) to lowly Pluto, just an inch across, inside the visitor information center at Houlton, it covers an astounding 3,670, 050,000 scale miles.
It takes more than five hours for light from the actual Sun to reach Pluto but you can cover that same distance in scale in less than one without breaking any speed limits or the laws of physics!
The Maine Solar System model is the brainchild of UMPI Professor Dr. Kevin McCartney who coordinated the project. It was a true, homespun community project; no tax money was used, no grants sought nor accepted.
It took several years for volunteers to construct and install all the pieces with local technical and high schools building the planets, moons and bases with the backing of service organizations. It was dedicated in 2003.
Talk about doing something on a "Cosmic" scale, the largest planets, including Jupiter and Saturn, are between four and five feet in diameter. By comparison, Earth is just a puny 5.5 inches in diameter. Our moon, about 16 feet away, is just 1.5 inches in diameter. In 2017, Jupiter "disappeared," for several months while it was in the shop to have its fiberglass shell refurbished.
Mercury, just two inches in diameter, is located just .4 mile from the sun. Venus, some five inches in diameter, can be found on the grounds of a motel another .3 mile farther down Route 1.
Earth is just about a mile from the start near a car dealership. Mars is another .5 mile south near the sign welcoming folks to Presque Isle.
Just like in the real solar system, distances begin to grow to reach the outer planets. Jupiter, which measures some 61.4 inches, is five miles from the sun. Saturn, just under 52 inches in diameter, with its majestic rings, takes a little longer to reach being almost five more miles down the road in Westfield.
Uranus, just 22 inches in diameter, is really a lonely planet, some ten miles farther out near the town hall in Bridgewater. Neptune, of similar size, is ten miles out from there in Littleton. Oh, and what about Pluto. It is represented twice on the model.
When the original was built Pluto was a planet. Its model was kept in a locked case indoors, reportedly because people kept stealing it. The location represents its average distance from the sun. After Pluto was downgraded to "dwarf planet" in 2006, it and two other dwarfs were installed at its then distance from the sun which is only 33 miles from Presque Isle.
Models of other dwarf planets are even farther out, including Eris some 54 miles south of Houlton in Topsfield Maine, and in Canada.
Folks in Northern Maine also let the planets go to their heads each year when they celebrate "Planet Head Day." Participants shave their heads and then paint them to look like planets, raising money to fight cancer.
Moving faster than the speed of light
When NASA's New Horizons spacecraft beamed back the first close-up photos from Pluto in July 2015, marathoner, teacher, and coach Evan Graves of Caribou was tapped to celebrate the transmission of those images back to earth by running non-stop along the solar system model from Pluto in Houlton to Presque Isle carrying a thumb drive of planetary photos. More than 60 other runners joined him for part of the way.
He covered the more than 39 miles in a time equivalent to traveling at the model's scale speed of light, some 186,282 miles a second!
In that context he set a new record as the fastest man in the Maine Solar System Model's universe.