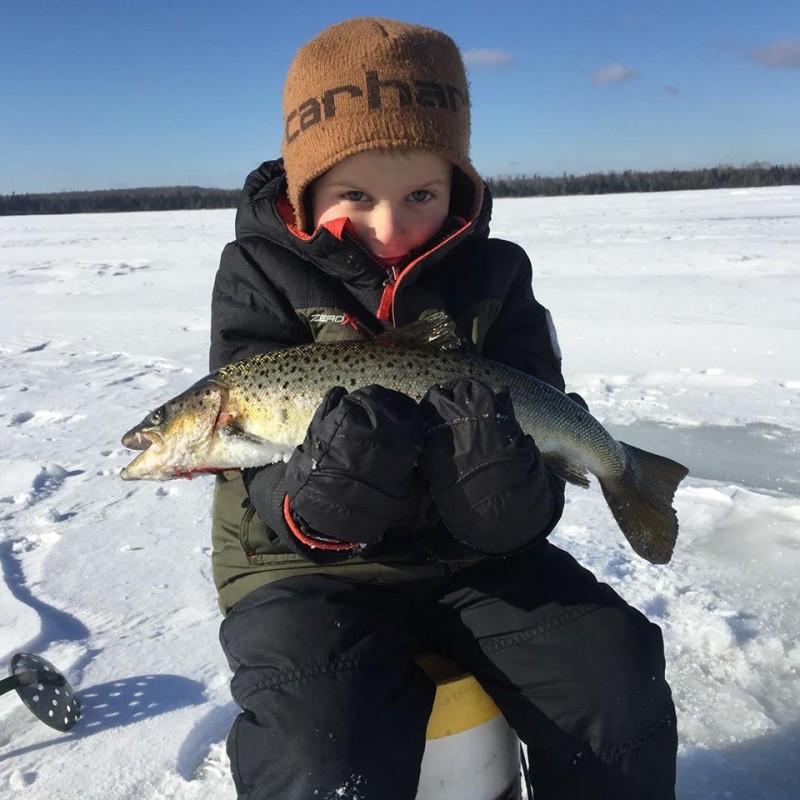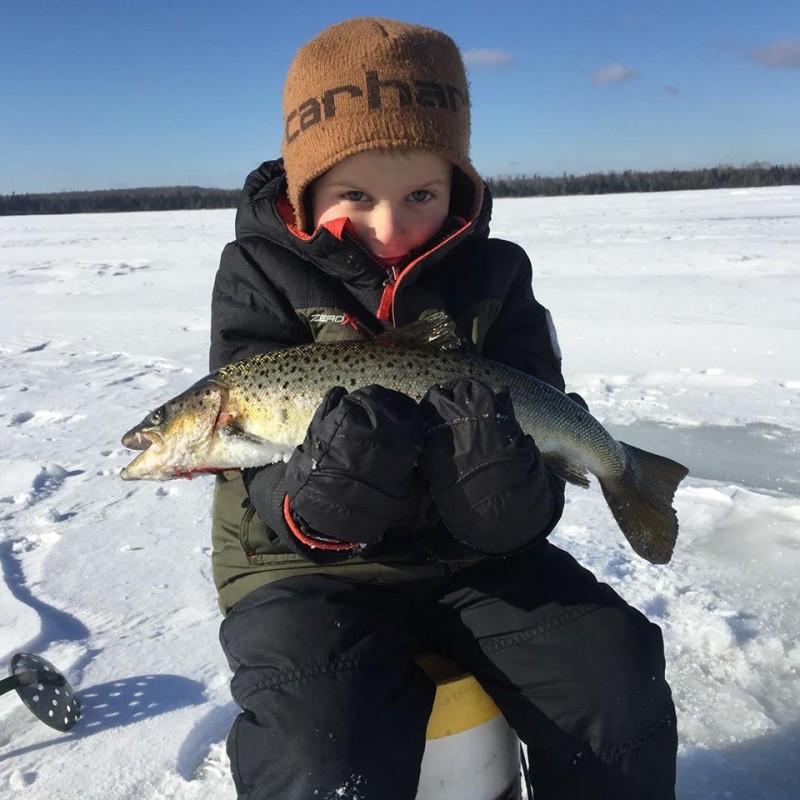 2017-02-02
Ice Fishing in The County
Guest blogger Frank Frost is the Regional Fisheries Biologist with the Maine Department of Inland Fisheries and Wildlife and works out of the Ashland Regional Headquarters. He manages the State's northern most administrative region that comprises 5 million land acres and can be reached at frank.frost@maine.gov.
Aroostook County has a long, rich tradition of winter fishing that is woven into our local culture as much as farming and forestry. For decades now, hearty County residents have taken to frozen lakes with fishing lines as a means to break up the long northern Maine winter in hopes to catch a fresh meal of smelt, trout, salmon or lake trout (locally called togue). Many of us long-time residents, remember trudging through deep snow and slush with "tip-ups" and an ice chisel in hand (younger generations now have the advantage of power augers) to spend a long weekend day on one of the famous Fish River Chain of Lakes. The major lakes of the Chain - Long, Cross, Square, Eagle, Portage and St. Froid – all hold fond memories of setting up the ice shack before January 15, the historic opening day, and catching the first smelt through the ice in the first minutes of the new season. Then, at daybreak there was the bitterly cold task of cutting holes and setting tip-ups, anticipating the first flag of the year – that sudden, springy action of the flimsy metal band affixed with a square patch of black felt waving in the wind. How we would watch that first tip-up intently while we worked methodically to set the next one. With the traditional yell of someone in the party, "FLAG!", you knew the first fish of the new year might only be seconds away.
Today, ice fishing in the County is one of several popular winter sports for residents and visitors alike. These activities support local economies and contribute to our quality of life, both of which are critical to our long-term viability. Based on recent Maine Inland Fisheries and Wildlife surveys, more than 21 thousand user days are expended ice fishing in Aroostook County every year; all of this fishing excitement occurs within a 3-month season representing a short, but intense, impact to Aroostook's economy.
The County has vast opportunities for winter fishing that can accommodate skill levels from novice to expert. State of Maine stocking programs in recent years have been expanded to provide relatively easy access to catchable trout, most notable of these are in the Houlton and Presque Isle areas and Madawaska Lake in northern Aroostook. The major lakes of the Fish River provide everything from fast action for smelt, trout, and salmon to trophy opportunities for trout, salmon, and togue. Ice anglers seeking remote adventures, can head west into the North Maine Woods where some waters of the Allagash River are open and provide great action for wild, native brook trout and togue. Whether you are a new guest or the one-time resident now living elsewhere, Aroostook County anxiously awaits your visit. Come join us!