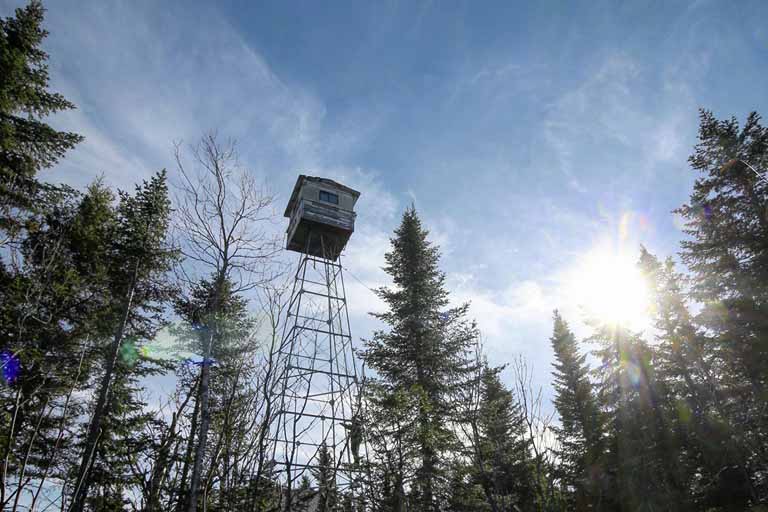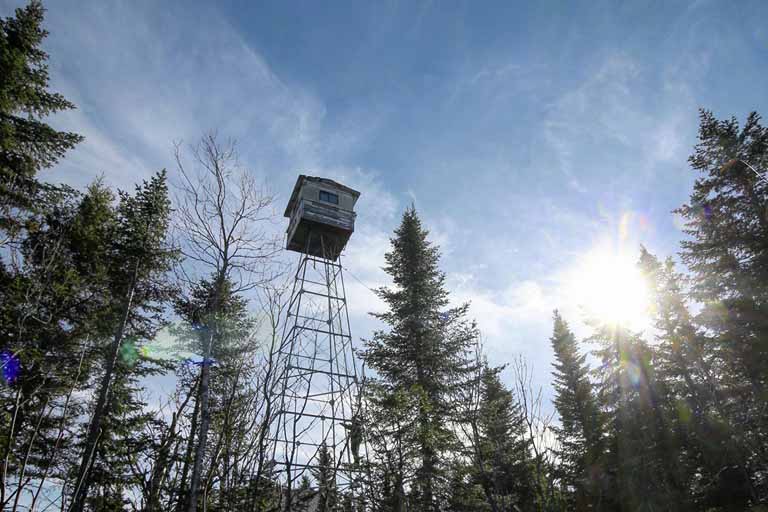 2017-04-13
Exploring Aroostook's Historic Fire Towers
Guest Blogger: Jen Brophy
Have you ever climbed a forest fire lookout tower? According to the Forest Fire Lookout Association, 24 fire towers once dotted Aroostook's tallest hills, their watchmen keeping a constant vigil over northern Maine's forests and lumbering operations. Maine's fire towers were built between 1907 and 1950; most were comprised of a tall steel structure with a wooden cab perched on top, but some were made entirely of wood, and two even started their life as a humble bosun's chair in a tall spruce tree.
Of the original 24 towers, eleven still stand today. Six have lost their cab and are now only a steel cage rising above the treetops, while five are in fair to good condition and are accessible to the adventurous public. Due to their nature as lookouts, the towers all require a bit of an uphill hike, and many have one or more geocaches near them.
The Deboullie Mountain tower located in the Deboullie Township, a 22,000-acre unit of public reserve land. The 48-foot tower requires a two-mile hike around Deboullie Pond. The steel structure is in good condition, and the cab is in fair condition. Maine's Bureau of Parks and Lands has been working on a multi-year project to rehabilitate the tower and watchman's cabin at the top of the mountain.
The Peekaboo Mountain tower in Weston is a 59-foot tower whose structure and cab are in good condition. The tower is maintained by the Aroostook Riders ATV club. The cab looks over East Grand and Bracket Lakes.
The Rocky Mountain toweris the northwestern-most fire tower in the state; it's located in T18-R12 in the North Maine Woods. It was originally a log tower built in 1907, was replaced with a 20-foot wooden tower in 1917, and was finally replaced with a 48-foot steel tower in 1921. The tower is in fair condition, and the St. John Valley Amateur Radio Association has a repeater in the cab.
The Oak Hill tower located in T8-R5, a few miles from Route 11 south of Oxbow. At 75 feet, it is the tallest of Aroostook's intact towers. It was built in 1924 and is still in good condition. There is no specific hiking trail to the Oak Hill tower; visitors park along the woods road at the base of the hill and make their way up.
The Stockholm Mountain tower, located in the town of Stockholm in northeastern Aroostook, is a 48-foot tower built in 1923. During World War II, it doubled as a lookout for enemy planes. In 2006, the tower was listed as one of Maine's most endangered historic resources by the Maine Preservation Society.
Fire tower watchmen used very specific maps to show them where a fire was. Some of the most important features on any tower are the 360-degree, circular panoramic maps. The Maine State Archives keeps low-resolution versions of many towers' maps for viewing online and can scan high-resolution copies for purchase. You can see the Deboullie, Oak Hill, and Stockholm Mountain maps online.
Do you love hiking in Maine? Are you looking for something a little different? An Aroostook County fire tower may be just the ticket!