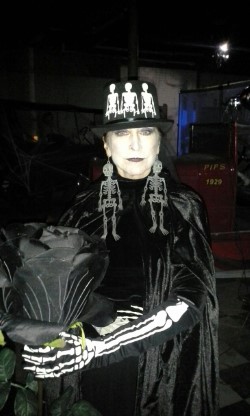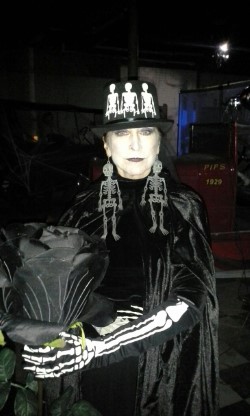 2018-10-11
Halloween Haunted Lantern Tours at Presque Isle Historical Society
By Kim Smith, Presque Isle Historical Society
Many of us who have outgrown trick or treating are looking for other Halloween activities. Logically, our brains should want to avoid the whole scared out of our minds scenarios and yet millions each year are attracted to the 'spooky, please make me scream' type event.
In fact, humans crave being affected emotionally. Fear and pleasure are actually very closely related with the same physiological reactions occurring in both instances. Halloween is a BIG business in the United States, second only to Christmas in terms of money spent on decorations and that doesn't even take into consideration the cost of candy or costumes. According to the National Retail Federation, Halloween is more than a $5 Billion industry with the average individual spending around $65 on Halloween related items.
In any community, there are usually haunted attractions to be found. It is the unique experience we are seeking today.
So, where in central Aroostook County can you go for a different type of Halloween event, a safe experience, one that is suitable for the entire family? One that doesn't focus on zombies or the devil or aliens. One that may even be educational as well as entertaining.
Presque Isle Historical Society will host its 8th Annual Haunted Lantern Tours this year on Friday, October 19 and Saturday, October 20. The tours are only $5.00 per person and are billed as "the slightly scary, kinda' creepy true tales of historic downtown Presque Isle".
Tour goers can enjoy the one hour evening tours by walking with a guide or on board the heated trolley. Historical interpreters at 13 sites (well, after all, it is Halloween) around downtown relate the unusual and darker history of that location not covered by the Society's other tours. It is also the only time of year the public is allowed into the old historic fire station.
Tickets may be purchased on site (no credit or debit cards please). Walking tours begin at 6:00 or 7:00 p.m. and trolley tours at 6:30 and 7:30 p.m. from the Historic Fire Station at 11 Church Street in Presque Isle. For more information, please contact Presque Isle Historical Society at 207.762.1151 or pihistoricalsociety@hotmail.com.